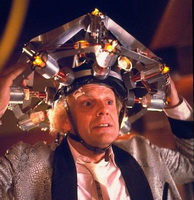 When you wake suddenly from a dream about Doc Brown and Libyan terrorists who drive around in a VW bus to a loud, static-masked radio station at 7:30 am, you know it's going to be a long day. (Confused? Read yesterday's SXSW blog here.) A couple cups of coffee and one continental buffet breakfast later, however, and I was good to go—it really is America's Best Value!
The Austin Convention Center hosted the SXSW panel discussions for both the Film and Interactive festival line-up. An interesting thing occurred at every film panel I attended, though. No matter where the talk started, it always seemed to get hi-jacked by questions and comments about online distribution, digital content, etc. No panel was complete, it seemed, unless the discussion took a hard left turn into Internet video. Am I the only one left who doesn't like watching movies on a tiny screen with crappy sound?
The seemingly instantaneous growth of online video is amazing, and I'm right there with it, making shorts and reviews about anything I can get my hands on. But when it comes to a feature-length film, I still enjoy the theatrical experience above all else—except when I have to drive too far to go see it. Then again, it was a little over five years ago that I said I'd never stop shopping in record stores and look what happened.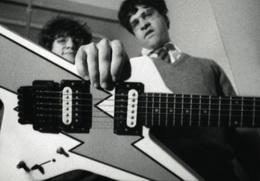 As the panels continued well on into the day, I took a breather and caught another unsigned indie documentary that revolved around a bizarre American subculture—the obsessed Harry Potter fan.
Like Cameron Crowe's classic 70s rock valentine "Almost Famous," "We Are Wizards" explores what its like to be a true fan. The catch is that director Josh Koury believes hardcore fandom is a gateway drug to becoming your own creative person. He's out to prove it with profiles of a new breed of musicians who call their brand of guitar-based noise "wizard rock." Confused? The song lyrics take on a perspective of a beloved (Harry and the Potters) or hated (Draco and the Malfoys) character from Potter lore and the players are just almost listenable. Think Iron Maiden cribbing "The Rime of the Ancient Mariner," but without all the musicianship and a way bigger sense of humor.
Because Koury doesn't develop his subjects far enough beyond being amusing curiosities, the movie never quite takes flight, but some of them are quite charming, especially the DeGeorge brothers, who play Harry Year 4 and Harry Year 7 while onstage. One Harry Potter fan (movies only—never read the books!) had such an unhealthy obsession, the film argues, that he recorded his own alternate audio track to the "Harry Potter and the Sorcerer's Stone" movie. Brad Neely's "fan art" goes far beyond that of the bands, and it seems like his twisted art career would have followed whether Potter ever existed or not. Regardless, his personal take on the characters is hilarious and a welcome respite from the geeky serious love of the other Potter freaks.
"We Are Wizards" is an interesting look into a cult I knew little about, and I dig the idea that reading a book can serve as inspiration to go out and do something.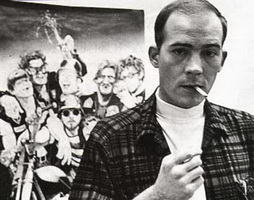 After trying to hail a cab at the only dead intersection in all of downtown Austin, Craig and I finally made it to the South Lamar Alamo Drafthouse with seconds to spare before a showing of Alex Gibney's hot-offa-Sundance documentary "Gonzo: The Life and Work of Dr. Hunter S. Thompson." The celebrated filmmaker (who just won an Oscar for "Taxi to the Dark Side" a couple weeks ago) has successfully brought to life the work of a maverick and prescient writer who we will never see the likes of again.
Okay, I'll admit, I'm a little biased, having read and enjoyed at least four of the man's books. But—if anything—I would think that would make me a tougher audience, too. Gibney starts it off right, reading from a column Thompson wrote on September 11, 2001, where the off-kilter journalist, writing for ESPN, correctly predicted the aftermath of this terrible strike way before we were ready to even accept that it had even happened.
"It will be a Religious War, a sort of Christian Jihad, fueled by religious hatred and led by merciless fanatics on both sides. It will be guerilla warfare on a global scale, with no front lines and no identifiable enemy." (Click here to read the full piece.)
Although he may have been slipping in his old age (a point that the movie doesn't shy away from), that quote proves that even in his darkest hour, the man knew his stuff and could write it with more blunt truth than anyone else.
There's a lot of ground to cover in "Gonzo," and Gibney does it with the author's own words, as read, appropriately, by Johnny Depp. But the documentarian is also smart enough to address the journalistic quandry of Thompson's writing as well as its legend. At one point does the reporter become the story? Can "a salt shaker half full of cocaine and a whole galaxy of multicolored uppers, downers, screamers, laughers" actually illuminate the point or does that style of writing completely miss it? It should be obvious to anyone who watches "Gonzo" that Thompson's perspective was challenging. And while it made for recklessly entertaining and thought-provoking writing, it was Hell on the home front.
"Gonzo" is at once a celebration of a genre-busting writer/rabble-rouser and an elegy for a time period when a freak like Thompson could get access to political leaders and actually affect some kind of radical change. Interviews with Jimmy Carter, George McGovern, and Pat Buchanan are particularly enlightening and "Gonzo" made wish we had someone like Raoul Duke embedded in the current presidential race, telling it like it is—or as they see it.
Next on Eric's SXSW blog: Seann William Scott and David Schwimmer, oh my!
[youtube 24fDD-P7iwU nolink]
[youtube r31hV_BPFf0&feature=related nolink]