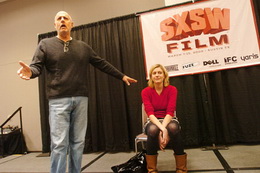 My third day at South by Southwest 2008 was a busy one. I was wandering in and out of panels all day. The Jeffrey Tambor acting workshop on how to properly direct actors was more than just a chance for the "Arrested Development" star to show how funny he is in real life, it actually was rather enlightening to watch him alternately push and protect two actors to get some "truth" out a simple scene.
Next I thought I'd duck into a Q&A session with AintItCool.com guru Harry Knowles interviewing notorious sci-fi author Harlan Ellison. It turns out that Ellison (below, in yellow) is a feisty and opinionated wind-up toy that, once you get him started, won't stop for a little over two hours. Not that I'm complaining, mind you—I could have listened to stories about Ellison getting in fights with "Exorcist" director William Friedkin in a restaurant in Paris all day, but these film panels do have time limits. (It turns out Ellison was arguing that Friedkin's widely-panned movie "Sorcerer" was a masterwork, while the director himself argued it was trash—and the rift stopped them from working together!)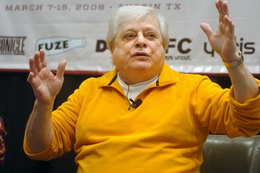 After standing in line for half an hour to get free BBQ at the VH1 party, my friend Craig and I were finally admitted and rubbed shoulders with Tambor and Morgan Spurlock. Craig actually knocked into Tambor, whom he didn't recognize, as we walked by and the actor was all smiles anyway. Craig met some friends, but I had business to attend to. I had to snarf my food fast and head over to the beautiful Paramount Theatre to see a low-key comedy about very average people called "The Promotion," starring Seann William Scott, John C. Reilly, Jenna Fischer, and Lili Taylor.
Too often the actors in broad Hollywood comedies have to work way too hard for laughs. For instance, the new Will Ferrell movie, "Semi-Pro," rested all hopes for funny business at the feet of its star in lieu of anything resembling a decent script or tone.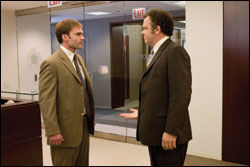 Writer/director Steve Conrad has a firm hold on both in "The Promotion." Although he wrote "The Weather Man" and "The Pursuit of Happyness," this is his directorial debut, and it's nice to see someone go for a something new on their first outing. When I read the summary, I thought this would be some kind of wacky farce about the crazy things that two grocery store managers do to each other to try and get a raise. So I was pleasantly surprised to find that "The Promotion" isn't all that interested in lots of yelling and kicking people in the nuts. Conrad wisely avoided what I like to call the "Dodgeball" curse.
Instead, he presents these guys with the utmost empathy. There are no big caricatures and no left-field developments just to up the stakes—in fact, both Scott and Reilly actually underplay the comedy to great effect.
With TV shows like "The Office" becoming mainstream in this country, uncomfortable humor is really starting to find its way. I predict that when this film is released, lots of critics who miss the point will complain about its muted tone. That tone was exactly what worked in "The Promotion," and some of the funniest scenes come out of its characters' deadpan reactions to the awful situations they find themselves in. But the key to this movie is that these guys aren't bad guys. They don't retaliate; they just keep getting up and trying again.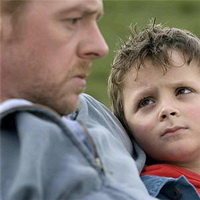 I wish I could say the same for Hank Azaria in the next movie I screened that night—David Schwimmer's feature-length directorial debut "Run, Fatboy, Run." While this film doesn't suffer the from the hyper-antic "Dodgeball" disease (which may also find Rip Torn shouting and throwing wrenches for no apparent reason other than being desperate for laughs), this romantic comedy follows the Hollywood playbook to a tee. Poor Azaria is "the bad guy." We know it; the hero knows it—if only the girl could see it! How could she be so blind to still date him?
You've seen it a million times before, but throwing the impeccable comic talent of British actor Simon Pegg ("Shaun of the Dead," "Hot Fuzz") into the mix somehow makes "Run, Fatboy, Run" more watchable and a little less stale. Check it: A loser leaves his way-too-attractive, pregnant wife at the altar and tries to win her back many years later before it's too late and she marries a real jerk. A marathon represents all the things in his life he started but never finished, so you can already guess what the ending is. There's also a gambling, alcoholic sidekick whose bare butt appears two too many times, and a cute training montage where Pegg's misfit friends get involved on the jungle gym.
Credit Pegg for inserting his smart brand of character-driven humor everywhere the script needed him (he polished up an old script by Michael Ian Black), and credit Schwimmer for keeping things moving quickly and efficiently. Watching "Run, Fatboy, Run" is like eating a solid meal of comfort food. Pegg proves that he may make the transition from cult comedian to leading man sooner than most might have thought, and he gives an edge to a movie that sorely needed one.
Schwimmer was there at the screening, as was Scott Conrad and Seann William Scott, for some Q&A following the pictures.
Next in my SXSW blog: I get lei'd!
[youtube IcTNIAWetRI&feature=related nolink]