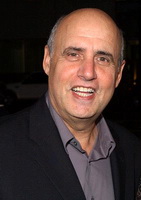 I've only been away from Austin, TX now for 24 hours, and I've got a huge hangover—not from drinking (although I did my fare share), but because the work at my job that didn't get done while I was gone is piling up around me and threatening to bury me. There's something liberating about listening to engaging panel discussions about the state of the interactive world and seeing as many free movies as you like as you rub shoulders with cool celebs like Jeffrey Tambor ("Arrested Development"), Doug Benson ("Super High Me"), and Morgan Spurlock ("30 Days," "Super Size Me"). The extent of my interaction with each? I'll let you guess who was who.
1. "Hey, I really enjoyed your acting workshop. That was great."
2. (pointing) "Heyyyyyy, Doug Benson!"
3. "Hey."
My South by Southwest escapade may be over, but if the film portion of the festival is any indication, 2008 might shape up to be a pretty great year in film. Of course, for anyone who lives in Austin, every year is a good year because these lucky cinemaniacs live in the home of the world-renowned Alamo Drafthouse chain of theaters. People outside of Austin are finally starting to see what a cool deal they have as the forward-thinking Drafthouses have been popping up in San Antonio, Houston, and Katy, TX.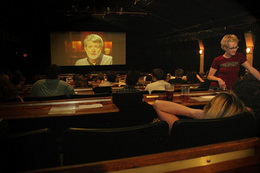 The geniuses at the Alamo have concocted the perfect mix of arthouse fare, mainstream flicks, and cult movies to spotlight while their variously pierced, T-shirt clad waiters and waitresses bring you a full menu of drinks and dinner. The kicker? You can eat on the bar ledge right in front of you and you never have to get up for another beer (provided you order a bucket of Lone Star, which I recommend highly).
After getting the pleasantries of hotel/badge check-in and bar-hopping out of the way, my friend Craig and I headed straight to the South Lamar Drafthouse showing "Back to the Future" at midnight. I ran into my old pal George, who filled me in that the Master Pancake Theatre (formerly Mr. Sinus Theater) boys would be poking fun Mystery Science Theater-style of one of the 1980s defining works of art. Years ago, when touring with Ultimate Fakebook, I had seen Mr. Sinus tear down the holy scrolls of "Footloose" and "The Lost Boys" and I will never be able to look at those movies the same again.
Friday night was no different. The timing these guys have is impeccable—they just sit there in the front row, drinking beer and heckling. It's a beautiful thing; especially the late show when the kid gloves are off, content-wise. I've often wondered if it would be possible for them to take their act on the road. Maybe if the Alamo chain ever spreads up to Kansas, we might get lucky some day.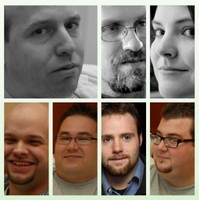 For the next four days, I crammed as many movies I had and hadn't heard of into as much time as I could, and I didn't see a single bad film. Ironically, my first official film of the festival was my favorite—a tiny-budgeted indie documentary called "Second Skin."
I knew very little about the world of MMORPG (Massively Multiplayer Online Role Playing Gaming), except that I was scared. Would it be a movie about nerdy little freaks that hole up in their rooms for days on end with nothing but pizza, Doritos, and the blue light of a computer screen to keep them alive? The surprising answer is no. Brothers Juan Carlos Piñeiro Escoriaza (director) and Victor Piñeiro Escoriaza (writer/co-producer) covered the wide spectrum of this addictive and increasingly common form of entertainment by expertly juggling multiple storylines (each with a surprisingly involving story arc). One couple falls in love after their attractively endowed avatars do a bizarre flirty dance together, one gamer loses everything and heads to role-playing rehab (who knew there was such a place?), and a group of gaming buddies who call their living room the Fortress of Dorkitude begin to disintegrate as some members gradually grow up and have children.
As if it weren't enough to follow the film's three fascinating main timelines, the Escoriaza brothers briefly explore other fringes of the online gaming world such as "gold farmers" who sell virtual swords and virtual armor to online players for real cash. Their attention to storytelling really shows through in their organization, because when one person's big reveal comes late into the film, it completely changes the story's context. "Second Skin" was made with a lot of care towards building character and has the same affection for those characters as "The King of Kong" last year. This movie deserves to be picked up, and fast. Marketed with the right savvy, it could have a huge potential audience. After all, the videogame industry makes way more then the movie industry.
[youtube RPOxuOCGi9I nolink]
Coming Next: Draco & the Malfoys and the good Dr. Gonzo.