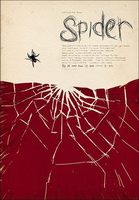 The Sundance Film Festival in Park City, Utah kicks off this weekend and Eric will be blogging live as he covers the best in the Short Film Program. Check back throughout the holiday weekend for reviews, links, and some of the actual shorts themselves posted right here! This blog is also a part of the live coverage over at DigitalContentProducer.com, where Eric works as an associate editor. Head on over there for a podcast with Michel Gondry ("Eternal Sunshine," "Be Kind, Rewind") and more…
This year, 45 of the 83 short films in the 2008 Sundance Film Festival are available at for viewing and/or download at iTunes, Netflix, and Xbox.com.
"It's all fun and games until someone loses an eye."
       -Mum
Next Sunday is a long time to wait to watch the short film Spider streaming for free on the Sundance 10 Shorts 10 Days site. If you're like me and you want to open all your presents early, the entire movie is embedded at the end of this post, courtesy Director Nash Edgerton and the millionaire boy geniuses who invented YouTube.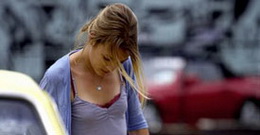 Something must be in the water Down Under because this is the second shocking black comedy from Australia in as many days. (the totally zombi-fied I Love Sarah Jane  was covered yesterday.) Shot on location in Sydney, Spider was filmed on 16mm stock in 1:2.35, and later transferred to 35mm. Edgerton himself plays Jack, who is in the midst of a pretty serious fight with his girlfriend Jill (Mirrah Foulkes) while she's driving them both around the city.
The camera's POV stays with Jack as he heads into a convenience store to buy some things in hopes of placating her. Watching him scan the shop quickly is like actually seeing the thought processes of a typical male (not that I would know anything about that). Since this is a short film and we don't want to ruin the ending, we'll just stop any mention of plot right there.
Edgerton is unique among film directors in that he's been a working stuntman (on some pretty big films—Mission: Impossible 2, The Matrix, Star Wars: Episode II) since 1993. This certainly prepared him for one particular moment in Spider, which is all I can really say without ruining anything. Edgerton has just completed filming on his first feature-length film, The Square, which was co-written by his actor brother Joel. You can find their production company, Blue Tongue Films, on the Web here.
Here is Spider in its entirety:
[youtube Zdj9vMH4BfQ Spider]