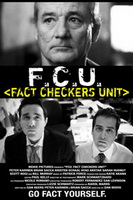 The Sundance Film Festival in Park City, Utah kicks off this weekend and Eric is blogging live as he covers the best in the Short Film Program. Check back throughout the holiday weekend for reviews, links, and some of the actual shorts themselves posted right here! This blog is also a part of the live coverage over at DigitalContentProducer.com, where Eric works as an associate editor. Head on over there for a podcast with Michel Gondry ("Eternal Sunshine," "Be Kind, Rewind") and more…
This year, 45 of the 83 short films in the 2008 Sundance Film Festival are available at for viewing and/or download at iTunes, Netflix, and Xbox.com.
With the recent popularity of free, user-generated content on websites like YouTube, where video is most often viewed in short bursts, original short films have been able to find a new and eager audience. No longer confined to being seen one theater and one festival at a time, shorts can be uploaded by the filmmakers and watched by anyone in the world who has a fast enough internet connection.
This trend seems to favor comedic shorts more than anything else, and Dan Beers' short film FCU: Fact Checkers Unit definitely falls into that category. To show at Sundance 2008 is prestigious for sure, but at this point, it seems like almost an afterthought. This short is something of an internet sensation, having appeared on Will Ferrell's FunnyorDie.com site, and now on YouTube and virtually everywhere else with embeddable video. It doesn't hurt, of course, to have Bill Murray in your movie.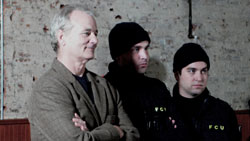 In addition to directing, Beers also co-wrote the short with its two stars, Peter Karinen and Brian Sacca. The set-up is simple. Two guys who work as fact checkers and take their job very seriously (way more seriously than their half-awake, banana-chomping editor) are assigned to check whether or not Bill Murray has a glass of milk right before he goes to bed at night.
The fast pace and goofy demeanor of the film's first half are sharply contrasted with the Murray half. Still the king of deadpan humor, Murray can squeeze more humor out of a simple look than anyone working today. Pete and Brian, who call themselves "comedy companions" on their website, aren't nearly as over the top as the mugging hams who populate some of Hollywood's lowbrow comedies these days, but they could still learn a thing or two from Murray about subtlety.
Either way, it's a pretty funny short, as you can see for yourself below: