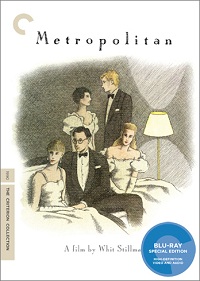 Writer/director Whit Stillman's semi-autobiographical movies have been called "verbose," "talky," "witty," "preppy," and "earnest." The New York Times said recently that his characters "grope for direction but are seldom lost for words, and beneath their barmy crotchets and pretentious dissertations there's heartache and yearning."
I would not only agree with all these things, but I would argue that because of these traits, Stillman is subject to an inordinate amount of unfair critical dismissal. Depending on the current cultural climate at any time since their original release, movies like Metropolitan and The Last Days of Disco, recently issued on Blu-ray by The Criterion Collection, could seem like antiquated, elitist gabfests or literate, barbed critiques.
I can happily report that, as of this week, both Metropolitan and The Last Days of Disco have an out-of-step, raggedy charm that belies the uptight personas of their characters. These films, which virtually open and close a decade (1990 and 1998, respectively) of huge cultural upheaval (grunge, Clinton, the Internet, etc.) don't so much seem out of time as they feel absolutely like film classics in a minor key.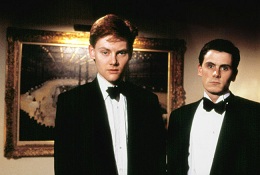 Metropolitan (1990)
Metropolitan, with all of its overly sincere and contradictory young New York debutantes, remains Stillman's best movie. The Criterion transfer of the Super 16mm-shot film looks natural and warm, and the cast of first-timers truly feels like they are living in the skin of their characters.
To see over-confident high-society snob Nick Smith (Chris Eigeman) argue with Ivy League outsider Tom Townsend (Edward Clements) is to feel like you're dropping in on a real (albeit hilarious and totally serious to its participants) conversation, which is a testament to Stillman's young and talented cast.
Listening to the Metropolitan audio commentary with Stillman, Eigeman, costar Taylor Nichols, and editor Christopher Tellefsen, it's interesting to hear how far they stretched a miniscule budget and how some of the actors had to look up the high-brow concepts that their characters were speaking about in the movie.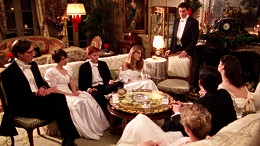 This may be part of the reason that the socialites of the Sally Fowler Brat Pack (as they have named themselves) have such a genuine feel to them. I believe that the camaraderie between young actors tackling heady material helped make their characters more authentic and believable.
The decision to set the movie mostly at the late-night afterparties in Manhattan apartments (rather than at the debutante balls themselves) was partially borne out of a lack of budget, but it also gives Metropolitan a unique vibe.
You get the feeling that you're seeing eavesdropping on the real conversation rather than the polite chit-chat you might expect at the actual events, and seeing  those aristocratic tendencies fall away to reveal scared human beings is part of the movie's infinite charm.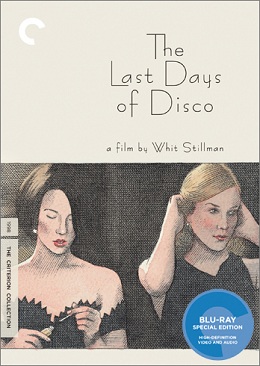 The Last Days of Disco (1998)
Like Metropolitan, The Last Days of Disco is a very funny movie, although you might not know it the first time you see it. Stillman's phrasing is so specific and dry that you might mistake the setup for the joke and miss it altogether while you're still thinking about the first part.
No actor delivers this dry, think-aloud humor better than Chris Eigeman, and its a thrill to have him in his third Whit Stillman film (Barcelona from 1994 was the middle 90s film; alas not a Criterion release) as disco manager and resident lothario Des. (Apparently Ben Affleck was interested in the role, but Stillman shot that down!) Eigeman doesn't work up quite as much sympathy and poignancy as Nick Smith from Metropolitan, but he's got enough comic timing and dry humor for the entire cast.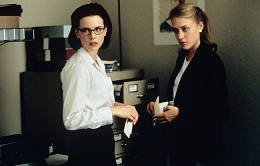 The title of the movie gave a lot of people expectations that would not serve the movie well. Coming off the heels of Boogie Nights and just months before 54, The Last Days of Disco was not an over-the-top exploration of excess and drugs. Instead, its a low-key character-driven comedy about young professionals in the early 80s trying to adjust their moral compass.
That's not to say there isn't a lot of disco music and love for the genre here; there certainly is. Not only are the characters in The Last Days of Disco embarrassingly earnest about their love for spectacular nightclubs and thumping dance music, but they're also completely transparent about their desires, even when they think they're being clever.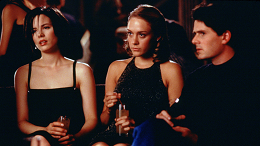 Considering the kind of mainstream action movies Kate Beckinsale has gone on to do since the 1990s, it's alarming now to see her so naturally clueless and overbearing as Charlotte, the best friend of soft-spoken Alice (Chloë Sevigny). Charlotte's passive-aggressive conversations with Alice are fascinating and darkly funny. Could Whit Stillman be the originator of  the Ricky Gervais-Stephen Merchant style of uncomfortable humor?
Where Metropolitan's costume and art direction incongruities suggest that it could take place in any  number of years (or decades), The Last Days of Disco is very much tied to its cultural moment by its music and any number of pop culture references. (Although characters from the probably later-set Metropolitan and Barcelona show up in Disco and interact with the main characters.) Stillman's light touch for revealing humanity in the most unexpected of ways, however, is timeless.
Both films contain commentary, outtakes, and deleted scenes, but The Last Days of Disco also sports a making-of featurette and an audio recording of Stillman reading a chapter from his book The Last Days of Disco, with Cocktails at Petrossian Afterwards.