Wouldn't it rule if that were true.
Wouldn't that just make your heart go pitter-patter? Usually, sequels are the result of a studio pushing beyond a good first film, with a credible director, to unreasonable lows like "Jaws: The Revenge" or "X-Men: The Last Stand" helmed by lesser captains.
There is of course no risk of that here, as the Harry Potter films have been unanimously well-done. Even Chris Columbus didn't squash the genius of the books, and more recent efforts (David Yates directed "Order of the Phoenix" and Alfonso Cuaron did "Prisoner of Azkaban") easily stand their ground at the top of the heap. Yates has already signed on for film six, "The Half-Blood Prince," but wouldn't it make all the sense in the world to bring on a true heavyweight to take "the-boy-who-lived" and the gang down the finish line? Steven Speilberg or Peter Jackson, take your pick.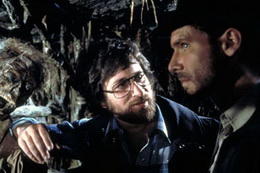 Not only would a monolithic director like Spielberg fire up the cast and production crew having found themselves in such capable hands for the grand finale, but it would be a remarkable inversion of the franchise formula. Let's face it, the only consolation for a globe full of Potter fans still grieving from the last book, the last page, the last new moment with Harry, is that we have two more films to look forward to.
Warner Brothers should knock the last installment out of the park with a director who can handle the complex and detailed conclusion author J.K. Rowling has laid out in "The Deathly Hallows." Either way there will be a lot of tears in the parking lot when the last frame rolls on the Harry Potter films, but the right mega-director's involvement just might ease the unavoidable pain at film seven's end.