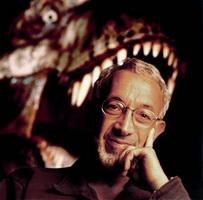 Last night I went to the enormous Nokia Theater in in downtown Los Angeles where hundreds of Siggraph attendees and Hollywood filmmakers gathered to pay tribute to legendary Hollywood effects guru Stan Winston, who died this past June.  Watching the promo reel of Winston's work made me realize something that Sony Pictures Imageworks' Ken Walston said was right on:
Winston created memorable moments in movies even when they films themselves were not so good.
 "He was fearless," says James Cameron. Stan Winston always had the charisma to talk nervous producers into letting his creature effects and make-up studio create expensive, experimental visual effects for their movies. Cameron should know, because some of Winston's most famous and groundbreaking work was done for Cameron's 1991 film Terminator 2: Judgement Day.
The man left a huge legacy of classic,  award-winning visual effects moments from movies such as Jurassic Park, Aliens, A.I., Iron Man, Predator, and Edward Scissorhands. Jody Duncan, author of "The Winston Effect" interviewed Cameron and some of Winston's other collaborators on a couch in front of the giant movie screen about the keys to Winston's success.
Flanked by a life-sized Iron Man suit and an Arnold Schwarzenegger Terminator statue, actor Matt Winston says that his father always knew he wasn't creating merely a special effect. In his eyes, "he created the star of the film." He also mentioned that his Dad loved to terrify him as a little kid, dressing up as ghouls and werewolves and hiding in dark doorways or popping up outside his window while he was trying to sleep at night.
Duncan stressed that Winston was always pushing boundaries in creature and make-up effects, and wanted that kind of work to be recognized as the art form it is. Shane Mahan from Stan Winston Studio agreed. "Stan always wanted to do what hadn't been done before," he says.
That included embracing the new digital age of special effects when most traditional-based effects supervisors could only feel threatened by it. In 1994, Digital Domain was founded by Winston, Cameron, and former Industrial Light & Magic exec Scott Ross. The top-notch effects house is still thriving today.
A screening of the new Blu-ray Disc master of Terminator 2 on the big screen followed the tribute. When speaking of Winston's Oscar-winning work on that movie, Cameron says that his fearlessness was infectious. "Everyone was terrified of having [such an important character like] the T1000 be CG," he says. Winston, at least outwardly, was confident it would work. Of the 150 visual-effects shots in the movie, a whopping 43 of them were CGI.
Cameron also mentioned that he learned how to build a team from watching Winston.
Stan Winston Studio, says Mahan, will be renamed Legacy Effects, in tribute to its former namesake, and continue to forge ahead in creating physical effects and make-up design.