Day two here tooling around in the Los Angeles Convention Center, running back and forth like a crazy man trying to cram as much stuff into a day as one man can. The only thing more popular than laptops and Starbucks at Siggraph this year is the double-feature panel featuring the visual-effects wizards behind "Cloverfield" and "Iron Man." Tippett Studio, who came off like excited, scrappy up-and-comers, and Industrial Light & Magic, who came off like the established old guard, split the bill today on a panel at Siggraph 2008 that revealed some of the secrets behind two of 2008's biggest FX-heavy blockbusters.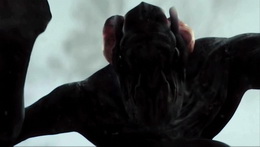 The Tippett team, headed by Eric Leven, gave the impression that the best kind of movie to work on is one with a limited budget and nothing to lose. Such a project was pitched to them as a kind of "Blair Witch meets Godzilla." Originally Cloverfield was budgeted at $25 million when they got the call from J.J. Abrams' team to work up the monster, known affectionately as "Clover." Once the filmmakers got the original tests back from Tippett, the excitement they generated resulted in more money.
Director Matt Reeves had complete freedom and used a lot of trial-and-error when filming the monster movie's handheld look, so Leven and his team approached their job with the same volume of experimentation. Their A-number-one focus? To avoid making Clover look like a guy in a suit by steering as far away as possible from too much human-like movement.
It turns out that the jerky-camera aesthetic of the movie opened up a whole new bag of tricks for Tippett to use to make their monster seem more realistic. Screwing up the image only served to make the action seem more real. The monster was featured in blown-out lighting environments and out-of-focus and rack shots. Compositor Chris Morley captured an image of dust on his iPhone lens and overlaid that on the camera frame. Digital blood was smeared on main character Hud's camera lens, and the Hud dummy used in the film was given to the Tippett team, who then smacked him around for hours on and into their own cameras.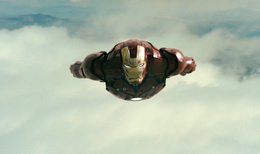 The old-school pre-CGI idea of keeping most of your effects offscreen was a lifesaver for Tippett, saving time and money. It allowed the studio the ability to improvise, too, when word came from the production team at the last minute that they needed another effects shot. The new user-generated video craze helped Tippett as well, because the team looked at jarring camera moves on YouTube to get the feel for their own simulated camera movement just right.
Hal Hickel from Industrial Light & Magic revealed that there were only 40 shots in the entirety of Iron Man that actually showed the beautiful physical suits created by Stan Winston Studio. The rest of the film featured carefully melded versions of computer-generated graphics and the suits. Even star Robert Downey Jr. unknowingly contributed to the growing number of effects shots for ILM by staying away from the full body armor unless it was absolutely needed.
Hickel says that once Downey Jr. got a taste of the lighter-weight mocap suit, it was hard to get him to put the physical suit back on. But all is forgiven in Hickel's eyes because Downey Jr. gave ILM such a great character to work with. A guiding idea for a mechanical suit that flies with a tenuous human inside of it vs., say, a human-like all-powerful alien from another planet like Superman was this: Superman takes off fast and lands slow. Iron Man takes off slow and lands fast. Very important distinction.