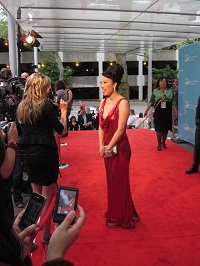 Seattle, WA – When Scene-Stealers editor-in-chief, Eric Melin, sent me on assignment to cover 2012's Seattle International Film Festival (S.I.F.F. for short), I naturally jumped at the opportunity.  Cheap, miserly son of a bitch that I am, the prospect of securing a Press Pass for the entire festival was far too delicious a plum not to snatch at, as journalist credentials allows one access to nearly all S.I.F.F. functions free of charge.  Thus, your humble author submitted a Press Pass application, one that shockingly led to full-fledged press accreditation for the duration of the festival.
A graduate from the school of Gonzo journalism, I knew as well as anybody that this meant a hedonistic plunge into the deepest recesses of my basest, most troubling tendencies, for a man of my background couldn't possibly be expected to cover something like this conventionally.  No, anything less than a fully-realized immersion into the story, one without any attached lifelines, would be a betrayal of the noblest Gonzo traditions, and I sure as hell wasn't going to stand for something like that.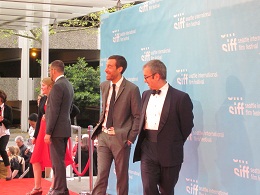 S.I.F.F. is an interesting festival. Over the course of nearly a month, Seattle hosts a celebration of filmmaking on all levels, giving time to the newest, most inexperienced actors and directors as well as a platform to showcase the work of some of the most established names in the industry today. Not nearly as popular as the Cannes, Tribeca, Sundance or Toronto's Festivals, what S.I.F.F. lacks in prestige it more than makes up for with a genuine, uniquely northwestern atmosphere.
Sure, there was a red carpet at the festival's opening night gala on Thursday, but there weren't a hell of a lot of famous people around to walk it.  Mayor McGinn was in attendance, as was director Lynn Shelton, whose Seattle-based film Your Sister's Sister played at the Gala opening as the centerpiece feature, yet these second-tier luminaries were hardly worth a Gonzo journalist's efforts, what with the true story developing inside the gala venue.
At the event there was a healthy cross-section of Seattle's social elite mixed with a curious blend of twenty-something hipsters: each camp jockeying for a place at the forefront of the event's visible eye. Dressed in my dark grey work slacks, green Sub Pop t-shirt, and ill-fitting suit jacket, I wandered the halls of the converted opera house (McCaw Hall) looking for drama, and soaked up the various dramaturgical subtleties of those sipping 10-dollar bourbons and six-dollar beers.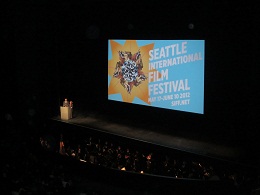 Liver-spotted social security benefactors with distended bellies and sweat-stained collars looked disdainfully upon the artistically minded film lovers of tomorrow. These older, wealthy sponsors of S.I.F.F. didn't seem terribly pleased with the company they kept, for with the passing of every tuxedo-Chuck Taylor combo, every head covered with paper braid fedora, tensions mounted. Although I dutifully spent my time on the red carpet, and snapped a host of meaningless pictures of quasi-celebrities nobody gives two shits about, I quickly realized the real action was inside the gala, where one could swirl about amidst Seattle's cultural stew.
To mine and most everyone's dismay, the opening night gala was becoming increasingly packed as show time grew near. McCaw Hall is a three story building sitting on the northwestern edge of the Seattle Center, which is located in the heart of the city, yet it clearly wasn't designed for the high society bloodbath I was certain would transpire in due time. Indeed, there were four bars set up, two of them trimmed with bottles of the finest mid-range liquors one could hope to find. Normally a fan of such treatment, the long lines and thirsty eyes of all those around me, young and old alike, convinced me that McCaw Hall's low lobby balconies would see picky old sponsors with a proclivity for long-ordering flying over the ledges in droves.
Luckily, things calmed down a bit once the movie started.  Your Sister's Sister was met with overwhelming approval from a friendly crowd clearly anxious to celebrate a hometown gal made good.  With the mood of the gala tinged with a positive flavor, those in attendance made their way to the Seattle Center's Exhibition Hall, in the adjacent building from McCaw. This banquet area, well-suited for the 1000+ in attendance, had a band, a dozen bartenders, and two long food tables serving (gratis) small treats: a friendly gesture by several of the local restaurants, delis, and bakeries here in Seattle (all of whom are sponsors of S.I.F.F. this year).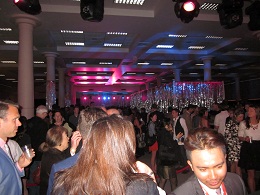 I procured a beer from the bar, thereby supplementing the two whiskey-stocked flasks I'd packed just for the evening's purposes, then made my way to the Disneyland-esque, 100+ person line that formed in the wake of one of the giant food tables. A long queue to be sure, it had the benefit of snaking its way directly through the heart of the party, and was within reaching distance of a number of candy dishes holding piles of designer chocolates for casual grazing.
Once again, the generational gap between S.I.F.F. attendees became strikingly obvious, for while older, wrinkled-assed curs lingered around the food tables, feigning a conversation just so they could bleed their way into the front of the line, polite, socially-responsible twenty and thirty-somethings waited patiently for what seemed like an eternity. And while it may have simply been embarrassing and pathetic to watch women in their late 60s palm complimentary chocolates by the handful (seriously, like 10 and 20 at a time) and stuff them into their huge-as-fuck purses, the line-cutting displays were simply too much to bear, and stands were taken.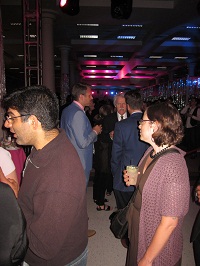 Well, a stand (singular) was taken.  Well … maybe it was less of a stand, and more of a hastily created scene whereby your humble author publically shamed an elderly gentleman trying to cut in line.  Though my murderously impassioned demands that the "wrinkled old fuck-nose get to the back of the line like everybody else" initially went over well, my threats detailing the proposed trajectory of my foot up the old man's ass did not.
Director Lynn Shelton didn't seem pleased. I'd taken a photo of her only moments before in the company of a man that looked like James Bond's fat step-uncle, and as the scene I was creating grew louder, she quickly excused herself from the area.  This was a maneuver imitated by a number of other people in the vicinity who didn't seem thrilled about the prospects of spending an evening giving statements to the police.  One of those who fled was the offending line-cutter, however, thus the evening was saved for the forces of youth and justice.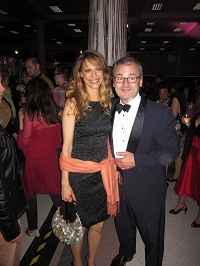 In all, though, it was a weird night. Nominally a red carpet premiere event, the decidedly non-Hollywood aspects of the evening far outweighed and overpowered the flash and shine the organizers clearly worked so hard to give the evening. And as a long-time Seattle resident, this was refreshing, for it wouldn't have been the same had it been a glitzy Hollywood celebrity spectacle like most of the rest, or just some half-assed wanna-be film forum.
In Seattle, we like our parties full, our bars stocked, our elderly generous, and the youth feisty: it keeps everything running smoothly out here. Accordingly, at S.I.F.F. the patrons, organizers, sponsors, and filmmakers all roam about at the same party, sipping the same overpriced beer whilst dealing with the same jerk-ass line cutters and the wild-eyed drunks looking to keep them honest.