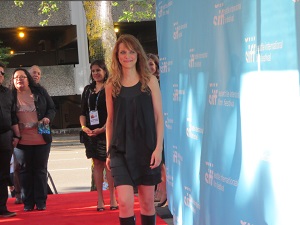 Seattle, WA – It's been a year since Scene-Stealers sent their chief west coast correspondent to the red carpet of Seattle's International Film Festival, and while the venue and decorations changed little in 12 months, the prestige of the event certainly evolved so as to be nearly unrecognizable from last season.  2012's opening night gala celebrated local director Lynn Shelton (left) and the premier of her film, Your Sister's Sister, and as successful and popular as that evening was, the promised arrival of Joss Whedon in 2013 saw tickets to Thursday's event disappear in less than six hours.  Perhaps the world's biggest director right now, Whedon and his newest film, a black and white adaptation of Shakespeare's Much Ado About Nothing, opened SIFF, and Seattle made sure the man had a red-carpet gala that could compete with anything to be found in New York, Toronto, Cannes, or Park City.
The director of the wildly successful summer blockbuster The Avengers, Whedon made his hay in the industry as a reliable television jack-of-all-trades whose more popular efforts include Buffy the Vampire Slayer, Angel, and Firefly.  And while the man's recent work with the likes of Iron Man and Captain America have put him on the map with a new generation of pre-teen fanboys, Whedon's connections to the sci-fi and gothic horror community are undeniably strong.  After all, these folks make up a healthy chunk of the film-going population in Seattle, and are undeniably the reason why SIFF's opening night gala found itself devoid of tickets in less than half a day.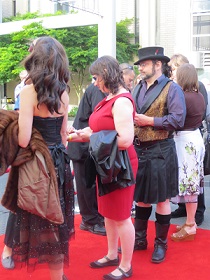 Looking around the Seattle Center on Thursday, just outside McCaw Hall where the red carpet was set up, the promise of Whedon's arrival seemed to be taking a very particular toll on folks.  Men in leather kilts and beaver-skin top hats looked around anxiously for Whedon and his brood, for it wasn't simply the director that was supposed to make an appearance, but many of the acting luminaries who have appeared in the man's previous work as well.  Indeed, many of these actors were tapped to take a roll in Much Ado About Nothing, hence their presence at the film's premiere on Thursday.
For example, Nathan Fillion of Firefly fame was in attendance, and took a moment to speak with Scene-Stealers for a moment.  Mr. Fillion plays one of the more comic characters in Much Ado About Nothing, the bumbling rent-a-cop of sorts, Dogberry.
Scene-Stealers: What did you do to bring this character, Dogberry, sort of into your own skin?  I know that in the past people like Michael Keaton have tackled it.  What'd you do to make it your own?
Nathan Fillion: Well, first of all, I made sure I didn't watch any other Dogberrys before I performed it.  It would have put a lot of pressure on me, I think.  Because afterwards I watched Michael Keaton's, and he was very good.  I have a theory that Dogberry is not the brightest fellow.  Ah, that's obvious. [chuckle]  I have a theory that stupid people don't know that they're stupid: they think they're the smartest person in the room.  So I just played it as smart as I possibly could, and gave him a little hint of, you know, here's a guy that couldn't make it as a cop.  He couldn't get to being an actual police officer, so now he's working security and is taking himself as seriously as he imagines a cop would.
SS: Absolutely.
N.F.: And I threw in a little David Caruso from C.S.I., you know?
SS: Oh yeah!  With the sunglasses, it fits!  Now, how much time did you have to prepare?  What was the rehearsal process like, as far as the time you got to spend with the other cast members?
N.F.: Uh, zero to none.  I was actually working, and fortunately enough, Joss had a two-week vacation and 12 days to film this picture, so we worked through the weekends.  Which worked out for me, because that's the only time I had free.  So I worked a five-day work week, worked one day, worked a five-day work week, and then came back and worked the entire weekend.  It fit into my schedule quite exactly, actually.  But as far as the rehearsal process, no, there wasn't a lot of that.  There was some blocking, and some additional working of some stuff out with Tom Lake, who is just fantastic, and a lot of my comedy, I can attribute to Tom Lake being so wonderful.
S.S.: Excellent.  That's wonderful.  Well, hey, enjoy your time here in Seattle.
N.F.: Always.  Always.  I already have.
S.S.: And thanks for talking with us.  Have a great night.
Things got considerably crazier when Joss Whedon made his appearance, however, for as wide-eyed as everyone was at the sight of Captain Mal from Firefly, the evening's guest of honor stole almost every gaze once he hit the red carpet.  Shameless autograph hounds began elbowing their way into the press line: their Blu-Ray discs and comic books thrust rudely between cameramen any time the director came near enough for a quick interview.  After assuring one autograph whore that his continued presence in the press area would lead to some serious trouble for him and the two children he'd brought along to hustle up some memorabilia, order was restored, and just in the nick of time!
As Joss Whedon hurried past the press area so as to make his appearance inside the gala, the world's last surviving Gonzo journalist made a run at the man of the hour, and struck gold…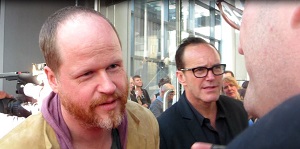 S.S.: Could I get just one quick question?
Joss Whedon: Sure, shoot.
S.S.: Claudio and Benedict, they were gonna get into a duel [in Much Ado About Nothing].  If it was going to happen, I mean, I know you've done a lot of stuff with The Avengers, a lot of fight scenes there.  Who wins in a bare-knuckle brawl?  Claudio or Benedict?
J.W.: Oh, Claudio totally wins.  He practically won the war single-handedly.  Benedict is harder, but he's going down.
S.S.: Wonderful answer!  Thank you.
And that was it.  This particular journalist got to ask the one bare-knuckle boxing question he'd come for, and with the red-carpet press corps breaking up following Mr. Whedon's departure, things felt mostly complete.  The evening's opening gala continued from there, what with the screening of Much Ado About Nothing, and the after-party at the Exhibition Hall following that.  As was the case last year, SIFF's opening night festivities offered an interesting mix of older, refined folks alongside the more bohemian youth of the city.  This juxtaposition was made all the more noticeable on Thursday, when Buffy and Firefly fans rubbed elbows with serious independent cinema supporters who looked on in horror at every rainbow print dress and Goth-inspired obedience chain.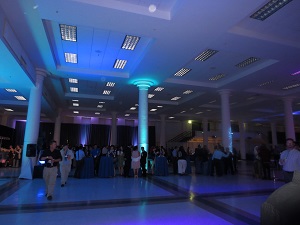 Yet as always, the good people at the Seattle International Film Festival had things well in hand, and wonderfully organized.  The gala's after party was catered by many of the same sponsors who have supported the film festival for years, and the refreshments they offered to the hungry and thirsty party-goers didn't go unappreciated.  Absolutely packed, and filled with an energy that promises to give Seattle yet another smashing offering of the world's newest, most exciting cinema, Thursday's opening night gala kicked things off smartly, and is a fine harbinger of the exciting things to come in 2013.
Photos by Audrey Morgan Delgado