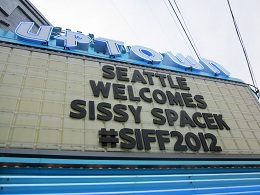 Seattle, WA – One of the centerpiece events of this year's Seattle International Film Festival, the June 7 Tribute to Sissy Spacek was one of the hottest tickets in town in the days leading up to the occasion.  The evening was to feature the guest of honor in person, along with Time Magazine film critic Richard Corliss who SIFF flew out to moderate a stage interview covering Ms. Spacek's generous body of work.  A brief Q&A was scheduled as well, followed by a screening of Badlands, one of Ms. Spacek's earliest and most celebrated films.
Though initially promised a private one-on-one interview with Ms. Spacek, I learned the day before the event that I'd only be granted red-carpet access to the visiting Oscar winner, where I would get to ask one, maybe two questions.  Dutifully checked in via the press table an hour before the event, I patiently waited on the access-only side of the red carpet ropes: the ones separating credentialed journalists (this bad mother fucker) from rubberneckers and autograph hounds.
This latter group was especially unsettling, for they were a pushy lot, and had a desperate, fierce look to them which made it appear as if they'd all, to a person, partaken in a meal of raw red meat and Benzedrine right before arriving.  Once Ms. Spacek appeared, this pale, twitchy throng surged forward against the dividing ropes, and pressed polite journalists ever closer to a point where tripod and camera-bag beatings seemed inevitable.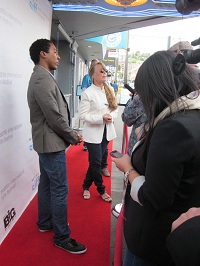 Savvy pro and all-around sweetheart that she was, Sissy Spacek seemed to take it all in stride, and politely answered all questions from the huddled, crowded press corps waiting patiently for their 60-second sound bite.  Trying like all hell to forget that I'd watched Carrie and Coal Miner's Daughter before I'd even attended my first day of school, or that I had been taken to see The River in the theaters before I knew how to add, I swallowed hard and desperately tried to keep my shit together as the moment of truth fell upon me.
WJC: I was wondering if you get much of an opportunity to see some of your older films like this [Badlands].  Is this kind of a rare opportunity for you to get to actually see some of your older work?
Spacek: It is.  I've actually seen Badlands a couple of times in the last couple years.  It's just always wonderful.
WJC: Are there any movies in particular that you find that are especially pleasing to watch because of the experience of making that movie, or is it something you don't really get a chance…?
Spacek: You know, Badlands is always particularly wonderful to watch because it's just as close to a perfect film as I've ever been involved in.
WJC: That's wonderful.  Well, thank you so much!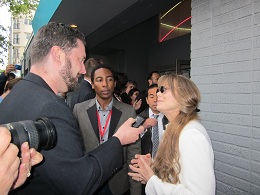 As she moved on, I finally remembered to breathe again, and after a quick evaluation of everything that had just come out of my mouth, I confirmed that nothing overtly ridiculous had been said, and I found my seat a happy and content man.
Yet it grew into an uncomfortable scene.  Though the illuminating interview with Mr. Corliss brought out a number of fascinating stories and interesting insights about Ms. Spacek, her craft, and illustrious career, the evening eventually took something of a sinister turn.  During the uncomfortable audience Q&A session, Ms. Spacek had to contend with not one, but TWO shameless promotions proffered (separately) by a couple of people looking to promote (in one case) some self-published book and (in the other) an ugly-as-fuck pig-themed ceramics line.  Both of these classless troglodytes seemed to have no concern whatsoever for the fact that those in attendance had come to listen to Sissy Spacek speak about her long, distinguished career, and not look on as some basement-dwelling jerk pimped their wares.
I haven't been to any other international cinema events outside of Seattle, so this may very well be standard operating procedure for celebrities venturing out into public, where lunatics with a loose grasp on reality dwell.  Yet I have to figure that if some 40-ish looking troll of a man or woman stood up during a Q&A at Cannes and started hawking their homemade garbage, the French audience in attendance would run that idiot fuck off the stage and stone them to death with a cache of empty wine bottles.  And truly, if this were the case, I'd proudly stand beside the surly Cannes critics and assist with the first barrage, for while they may surrender a lot, those French bastards at least know a thing or two about class, and how to punish those coming around without any (just ask Lars von Trier).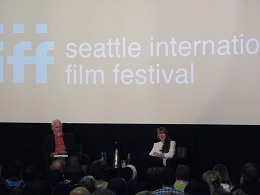 A true pro, Spacek handled the evening with a level of charm, grace, and polite poise one would expect of a visiting royal dignitary.  Although I was distressed to see her leave after the Q&A (thereby negating the relevance of the two questions I got to ask her), if subjected to the same wide-eyed, ghoulish stalkarazzi treatment, I likely would have refused to even appear.
Still, it was wonderful to watch Badlands on the big screen with a receptive audience clearly excited and bubbling with anticipation from the evening's events.  Though opinion is largely split over the artistic merits of Terrence Malick's overall body of work, there are few that argue against the quality of Badlands, for it was a movie as visually stunning as it was physically captivating.  Indeed, the on-screen chemistry between young Martin Sheen and Sissy Spacek is still palpable forty years on, and the film's expansive, rich shots haven't lost any of their impact.
Yet watching the film, one with an underlying tremor of menace pulsating just beneath the surface, it became clear that the events of the night had soured the collective experience a bit.  When Ms. Spacek departed after the Corliss interview and Q&A, her chartered car was followed by a fast-moving and reckless caravan of autograph seekers, likely suffering a crazed temporary-insanity as a result of raw red-meat withdrawals.  In town for just a couple of days, it became painfully obvious that the poor woman would likely get no rest if she ventured too far from her hotel room, for even a low-profile actress in her 60s has to deal with a level of ludicrous celebrity-worship that would drive most sane individuals into a windowless rubber room.
At first I was embarrassed for my city.  Seattle takes art very seriously, in every medium, and has some of the most passionate, well-informed music, theater, and film enthusiasts in the world.  For Ms. Spacek to come to the Emerald City and leave with memories of snaggle-toothed fame-lusters and self-promoters is a sad thought, yet one only scratching the surface of the despair a famous person likely experiences when submitting to these kinds of events, where the famous must suffer the fans.