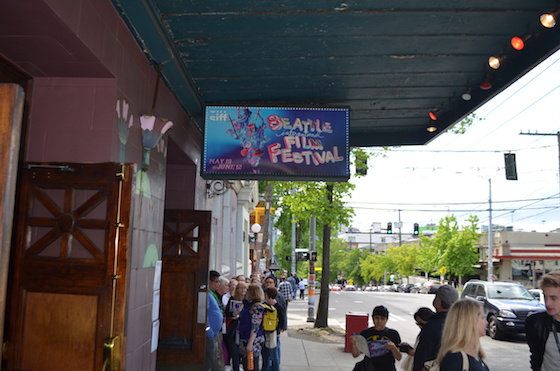 The 2016 Seattle International Film Festival may have kicked things off with the opening night gala last week, yet it didn't seem to really shift into high gear until noted Saturday Night Live alum Molly Shannon hit the scene. In Seattle to promote her new dramedy, Other People, which had its world premiere at the Egyptian Theater on Sunday, Ms. Shannon's confidence, humility, and generosity infected all those in attendance. Her presence at the premiere had the audience buzzing before, during, and after the event, and lifted what might have been an ordinary evening into a charged celebration. Sadly, there is a review embargo on Other People until it has its general release this September, yet that didn't stop Scene-Stealers from attending the premiere and taking a few moments to chat with one of the queens of improv. comedy.
Ms. Shannon isn't the only big "get" for SIFF's 2016 season, however. In a few weeks, Viggo Mortensen will be in town for a special tribute event, along with a screening of his new film, Captain Fantastic. This is all aside from the business-as-usual 3+ week celebration of cinema in all its wonderful variations, from feature, to short, to documentary (all of them represented by offerings both foreign and domestic). Seattle is at its best during these early summer months, when the weather has finally begun to turn, and seemingly countless options abound for folks looking to take in the film community's newest offerings.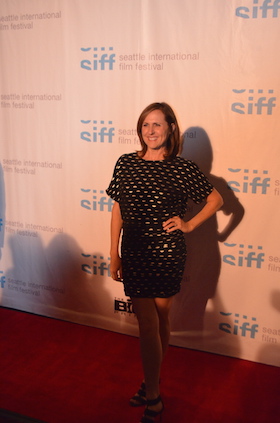 This was the case on Sunday evening, when lines snaked around the block on Capitol Hill's Pike/Pine corridor to gain entrance into SIFF's 'Evening With Molly Shannon' event. Those in attendance fidgeted with a palpable aura of excitement at the prospect of seeing not just a new film, but also its director and star in attendance. Indeed, when both arrived, they did not to disappoint. On the red carpet just outside the theater, Ms. Shannon took a few moments to speak with Scene-Stealers about her preparation process, and the film itself.
Scene-Stealers: What's the difference, if any at all, between how you approach preparing for a dramatic role versus a comedic one?
Molly Shannon: There really isn't that much of a difference, I treat them both the same. With comedy, I still try and play the emotional truth of the character, and drama, same thing. So I find them very similar.
S.S.: For Other People, how did you approach the role when you read the script? Was there something that jumped out at you, as far as the character, that you felt would allow you to get inside this person? That it was familiar to you in some way?
M.S.: Yes! I think that the character of the mother, Joanne Mulchahy, I just really related to how she felt about her family, that she would do anything for her kids: that she would go to the end of the Earth for them. And I just thought it was the most beautiful script I'd ever read. It literally took my breath away. So I deeply related to it as a mother.
S.S.: That's fantastic!
Before Other People started, Ms. Shannon took the stage for a Q&A to discuss her childhood, her early career in L.A., her auditions for Saturday Night Live (one failed, the other successful), her place in SNL's proud alumni troupe, and subsequent work. It was a surprisingly candid chat that bounced around between stories detailing her formative years with her single father, and others that painted a picture of a driven, broke actress struggling within Los Angeles' aspiring herd of pre-fame wanna-be's. One thing that came across was Ms. Shannon's burning drive and passion to succeed, something fans of her SNL work (especially Mary Katherine Gallagher) would recognize. She admitted that of all her characters, Mary Katherine is the one she feels closest to, as it represents a sort of pure Id that's never left the actress.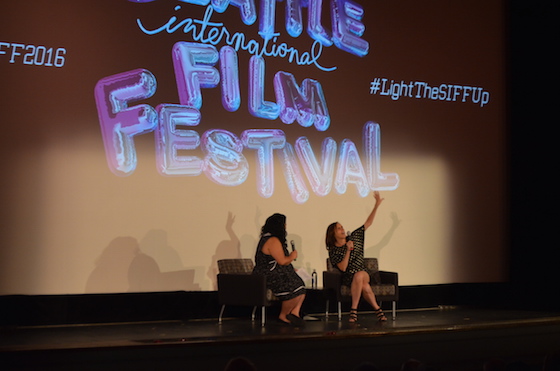 Ms. Shannon's work in Other People is a much more dramatic exercise, however, as it relies on her ability to humanize the excruciating cancer experience. As far as the picture itself, Other People seemed to hit its marks, and elicited hearty laughs, and eventually, sniffles. The story of a late-twenty-something comedy writer (Jesse Plemons) who comes home to Sacramento to help care for his terminally ill mother (Molly Shannon), it never flinched in the face of its difficult subject matter, even if character exploration did sometimes overshadow the development of the larger narrative. The film is the feature directorial debut of Broad City and SNL writer Chris Kelly, who was in attendance, and held another Q&A after Other People concluded.
The end result was an event that delivered on its promises, for it was indeed a full evening with the delightful Molly Shannon, along with a presentation of her new film which, if it did nothing else, allowed that actress to showcase her formidable big-screen chops. It was a back-to-back triumph of sorts, as she surprised with her work in last year's biggest surprise at SIFF, Me, Earl, and the Dying Girl, and managed to do it once again this season. If the rest of the Seattle International Film Festival keeps up this pace, those in attendance are in for a hell of a treat.