During the 2013 Seattle International Film Festival, I've had an opportunity to see tons of indie films and have conversations with the talent involved in making them.
Below is my video interview with Kieran Darcy-Smith, the director of Wish You Were Here, starring Joel Edgerton, Teresa Palmer, and Felicity Price.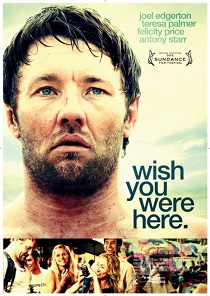 Also: Check out my review of Wish You Were Here and other coverage from SIFF 2013.
Excerpt: Wish You Were Here starts with two Aussie couples on a South Asian vacation, both of whom dance through the opening credits with beers in-hand and ecstasy tablets at the ready.  It all seems a little too good to be true, and sure enough, before the audience learns how the party wrapped up, events have shifted a few days into the future, when one of the couples arrives home in Sydney with a dark, uncomfortable cloud hanging over them.  Yet what initially tastes like an Australian retread of the woefully bad late-90's Asian-vacation flops like Brokedown Palace and Return to Paradise quickly evolves into a taut, well-paced film about guilt, shame, pride, and fear.