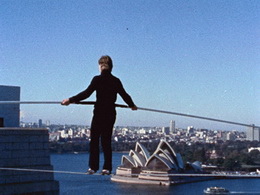 Well, the short list for Oscar Documentary nominations has been released. Last year, the committee snubbed the best doc of the 2007, "The King of Kong." This year, one of the biggest non-fiction films of the year, "Young@Heart," was declared ineligible for a nomination because it was shown on TV first. Also, Alex Gibney's "Gonzo: The Life and Work of Hunter S. Thompson" and Larry Charles' "Religulous," starring Bill Maher, is notably absent from this list.
It's always something with those guys.
Anyway, here's the list of eligible films. "Man on Wire,"  (above) one of my favorite movies of the year so far, is probably considered a frontrunner. And, even though his highly-acclaimed "Grizzly Man" was snubbed in 2005, Werner Herzog's "Encounters at the End of the World" (also pictured) should also make it in. Also notable: the esteemed Errol Morris' "Standard Operating Procedure," which came and went so fast this Spring, I didn't even get a chance to see it.
These 15 films will be voted on in order to narrow the field down to five Oscar nominations in the Documentary category. Last year's winner was Alex Gibney's Taxi to the Dark Side," which was viewed as somewhat of an upset over Michael Moore's "Sicko."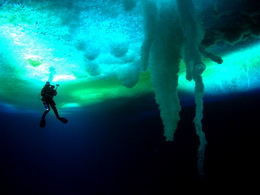 "At the Death House Door"
"The Betrayal (Nerakhoon)"
"Blessed Is the Match: The Life and Death of Hannah Senesh"
"Encounters at the End of the World"
"Fuel"
"The Garden"
"Glass: A Portrait of Philip in Twelve Parts"
"I.O.U.S.A."
"In a Dream"
"Made in America"
"Man on Wire"
"Pray the Devil Back to Hell"
"Standard Operating Procedure"
"They Killed Sister Dorothy"
"Trouble the Water"