Dear students,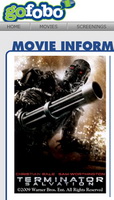 It has come to my attention that some of the people who win free tickets to advance screenings on our site here are taking advantage of the situation. This is so not cool. Let me explain:
Recently, we've been using a website to make getting free advance passes faster and easier for everybody. For example: 400 people enter a contest and 50 winners are picked at random.
Those 50 winners are emailed that they've won two passes and told to go to a website. Each movie has its own Scene-Stealers promotional code. You put in the code and your name is entered as having picked up your tickets. You print off your passes and bring them to the screening. Awesome!
This rules because we didn't have to mail anything and you didn't have to wait for your passes!
The problem is this: Apparently some people aren't happy with their two free passes. For tonight's screening of "Terminator Salvation," for example, there are three winners who printed off more than their allotted passes for the show. This takes away those passes which were already reserved for someone else.
So, let's imagine this: You enter. You get an email from me saying you've won. You go to the site to print off tickets and they are all gone. That's what happened to some winners that emailed me this morning. Lame.

Here's the kicker: I know who you are. We get a list of the names of people who have reserved our winning tickets, and we can match them up with the names of users who actually used the Scene-Stealers code.
If you're one of these people, don't do this again. It really screws things up for us, and you're just gypping other people who were randomly picked just like you. Isn't two seats enough? If you are one of those people, please return to the site (Gofobo.com) and release those tickets so that somebody else who won can claim them.
I'm going to keep this post up as a reference so I don't have to keep reminding everybody, but this is a little embarrassing. I feel like I'm rapping someone's knuckles with a ruler like my old music teacher from 2nd grade. If we tell you you've won two tickets, be happy with that! You get to see a movie before its released, and it's free! Isn't that enough?
Sincerely,
Mr. Melin
We're working on taking care of those who legitimately won tickets from us, so if you have any problems, email me at eric@scene-stealers.com.