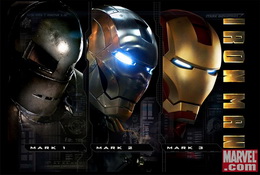 Whose idea was it to use Black Sabbath's "Iron Man" in all the trailers and marketing for the upcoming Jon Favreau-directed Marvel comics spectacle (starring Robert Downey, Jr.) ? Give them a freaking medal (made of iron, no doubt) because this is both kitchy and fun and totally bad ass at the same time. But was the song actually inspired by the comic? And what is Iron Man's Queen connection? Ever seen the cover of that band's "News of the World"? Here's a great article from Boston.com that explores the twisted history of Iron Men.
Bill O'Reilly is happy that "Stop-Loss" tanked at the box office. [link here] What an idiot. This movie is completely pro-soldier and has almost no rhetoric in it at all. Whaht's more, he'd like to think that this trend means Americans still think the war is a good idea. That's not the case at all, it's just that people are so tired of hearing bad news about it that they don't want to go to the theater and deal with it in their entertainment as well.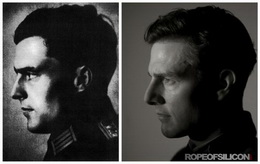 Tom Cruise's United Artists has pushed back the release date of the Bryan Singer-directed "Valkyrie," in which the star plays a Nazi officer. Here's the scoop from a Variety blog and a look at the real person he is portraying side-by-side with Cruise, made up for the movie. Are they moving the release date because the director is going overbudget or because they no longer think the film has any real Oscar chances? Moving it from the fall of 2008 to the spring of 2009 certainly looks suspicious. Either way, I'm there because Singer hasn't done a non-superhero movie (X-Men," "X2," "Superman Returns") in a long, long time. And, ultimately, a film's release date is nothing but an early indicator of its quality. Just look at "Zodiac" and "Eternal Sunshine of the Spotless Mind," which was released in March.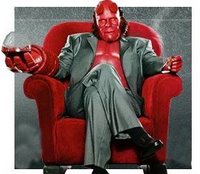 I always liked Guillermo del Toro's visual sensibilities in sub-par horror flicks movies like "Mimic" and "Blade II," and I thought "The Devil's Backbone" was a truly great film, but it wasn't until "Pan's Labyrinth" that I saw that the director had the potential to be a master storyteller as well. The reason? "Hellboy" looked great, but the story was pretty weak– disjointed, with the origin story mixed up in a could-have-been-really-cool-but-ended-up-kinda-silly Rasputin bad-guy plot that fell short by somehow being too typical. Anyway, "Pan's Labyrinth" has made me even more excited for "Hellboy II: The Golden Army," so here's a link to some video of del Toro hosting a sneak peek for you all!
Uwe Boll makes terrible, terrible movies. (Most of them are film adaptations of video games: "House of the Dead," "BloodRayne," "Alone in the Dark") 140, 769 people hate his movies so much that they've signed an online petition imploring him to stop. Immediately. When he first heard about the petition, which was at 18,000 signatures at the time, Mr. Boll said, "18,000 is not enough to convince me." The magic number? "1 million." Here's the petition, and a link to his video statement about it. A juicy quote from the video: "Look, I'm not a fucking retard like Michael Bay or other people running around in the business… or Eli Roth making the same shitty movies over and over again. If you really look in my movies you will see my real genius. You have to really wake up and see me what I am, the only genius in the whole fucking business."
He's a class act. You may remember back in 2006, when Boll challenged four critics of his movies to actually duke it out in the boxing ring with him:
[youtube fMTSsrxNTTE]