See the complete video series of Scene-Stealers 2012 Oscar Predictions here.
In this video, Trevan McGee and Eric Melin pick the winners in the Best Original Screenplay and Best Adapted Screenplay. There are some pretty clear frontrunners for both, but at least one of them as up for grabs a little bit…watch to find out which one!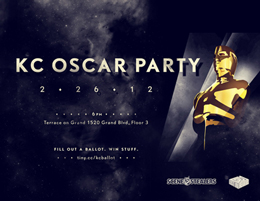 Whether you are attending the KC Oscar Party 2012 (Facebook event page – RSVP here!) or entering an online or office Oscar pool this year to predict the winner of the 2012 Academy Awards, Scene-Stealers has your back.
How to Win Your Oscar Pool: 2012 Oscar Predictions
…is a series of videos we shot to help you win at this year's picks.
We've been following the critic's awards, the guilds, and the award shows leading up to the Oscars, and we'll be doling out free advice on how to fill out your Oscar 2012 ballot.
If you live in the Kansas City area, make sure you fill out your KC Oscar Party 2012 ballot, and we'll see you at Terrace on Grand, 6pm Sunday Feb. 26!
If not, hit up some online contests and kick some Oscar ass.
Good luck, and happy picking!