The ROCK OF AGES Boulevard Drive-In Party is 9:00pm June 14 at the Boulevard Drive-In. Go here for a free carload pass to the party!
Before the movie, an "air guitar showdown" will be held at the drive-in and broadcast live on the big screen!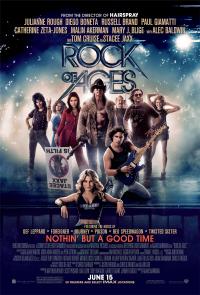 Anyone can enter!
The winner will be automatically entered into The 2012 US Air Guitar Championships – Kansas City Regional, for a chance to represent Kansas City at USAG Nationals in Denver — and win a special-design ROCK OF AGES Jackson J352 Kelly model guitar!
Here's what you need to know to enter:
You'll be handed a flyer when you enter the drive-in with a list of songs you can choose to air guitar. Each song has been edited down to one minute. Look it over and head to the concession stand when you arrive to sign up for the competition.
Your song will be played over the digital sound system and Boulevard Drive-In will put your performance up on the giant screen for everyone to see. After your one minute is up, a panel of local celebrity judges will score you based on these criteria:
1. Technical merit
You don't have to know what notes you're playing, but the more your invisible fretwork corresponds to the music that's playing, the better the performance.
2. Stage presence
Anyone can do it in the privacy of their bedroom. Few have what it takes to rock a crowd of hundreds or even thousands – all without an instrument.
3 "Airness"
The last criteria is the most difficult to define yet often the most decisive of all. Airness is defined as the extent to which a performance transcends the imitation of a real guitar and becomes an art form in and of itself.
– Each performance is played to 1 minute (60 sec.) of a song
– The instrument played must be invisible & be a guitar
– Back-up bands (air or real) are not allowed
A winner will be crowned, and ROCK OF AGES will start immediately following the showdown.
Good luck!