Along with Gene Siskel, Roger Ebert is the reason I became a film critic.
I started watching Ebert way back when he did Sneak Previews on PBS, and never stopped. Siskel and Ebert were the first people to force me to engage with film as something more than mere escapist entertainment. (Although they didn't look down on escapist filmmaking — see the video below where they defend Star Wars.)
In his later years, Roger became a more reflective person and an even better writer. I own and have read many of his books, and reading his memoir Life Itself, written after cancer left him unable to speak, was a very enlightening and moving experience that made me appreciate the man behind the incisive and passionate movie criticism.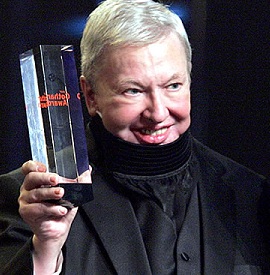 Yesterday, Roger wrote that cancer had returned, but he was hopeful. And he had big plans to continue writing and producing a new TV show. I retweeted Roger's update, saying that it was a mixture of sad and exciting news. From his site:
At this point in my life, in addition to writing about movies, I may write about what it's like to cope with health challenges and the limitations they can force upon you. It really stinks that the cancer has returned and that I have spent too many days in the hospital. So on bad days I may write about the vulnerability that accompanies illness. On good days, I may wax ecstatic about a movie so good it transports me beyond illness.
To find out today that he is gone is devastating. He is my model for doing something you are passionate about — and reinventing how that fits into new technologies and mediums as they are invented. Most of all, he ignited my vigor for the movies and challenged me to think about what I was seeing rather than merely accepting it.
You will be missed Roger. Here are some of his best quotes and some videos worth watching.
"I believe empathy is the most essential quality of civilization."
"Every great film should seem new every time you see it."
"Your intellect may be confused, but your emotions will never lie to you."
"It's not what a movie is about, it's HOW it is about it."
"The celebrity culture is infantilizing us. We are being trained not to think. It is not about the disappearance of film critics. We are the canaries. It is about the death of an intelligent and curious readership, interested in significant things and able to think critically."
"A lot of people just go to the movies that feed into their preexisting and not-so-noble needs and desires."
"I do not fear death. I know it is coming, and I do not fear it, because I believe there is nothing on the other side of death to fear."
Roger talks about missing Gene Siskel and calls Three Kings some kind of masterpiece. He was way ahead of the curve on that one.
Ebert talking about how he identified with Henry Hill (Ray Liotta) and felt guilty about it for days after seeing Goodfellas, which he called a "great American film."
Siskel and Ebert defending the Star Wars trilogy on Nightline with Ted Koppel and crankety crankster John Simon, also talking about double standards in genre entertainment.
WATCH THIS! Roger convinces Gene to switch his "thumbs up" review of Broken Arrow to a "thumbs down" (the first time this ever happened). Roger then refuses to change his opinion on Burt Reynolds' Cop and a Half at Gene's request. Way to stick to your guns, Roger!