Questions about what happens in "Source Code"? What does the ending of "Source Code" mean? Is it scientifically accurate? Discussion of the mind-boggling new sci-fi film starring Jake Gyllenhaal. Find answers here.
Like most great Science Fiction, Source Code leaves you with questions. Below are some of the ones I've been contemplating since viewing the film, and my thoughts about them. If you have alternate theories, other questions, or want to politely tell me why I'm wrong, please join the completely civil and reasonable discussion in the comments.
All SPOILERS are fair game, so please do not read any further until you have seen the film.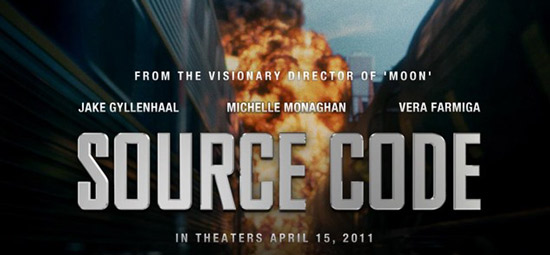 1) How is Colter in the incubator at the end if Goodwin pulled the plug?
"Source Code" clearly subscribes to the multiverse/parallel universe theory. Every time Colter makes a change during the timeline of the source code, it creates a branch to one of the infinite other timelines that coexist with the primary timeline of the narrative.
Until the end, we only see Goodwin and Rutledge in one timeline, let's call it timeline (A). In (A), Colter learns the identify of the terrorist and gives them the info that prevents a second terrorist attack.
Against Rutledge's wishes, Goodwin does not wipe Colter's memory and instead she lets him return to Sean's source code one last time, pulling Colter's life support just as the eight minutes are up. Colter ceases to exist in (A), and while the Source Code program has had its first success, Goodwin (A) will likely face a court martial.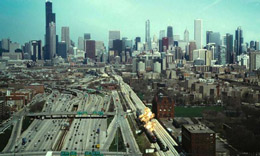 However, the rest of the film takes place in timeline (B). In (B), since the the train did not blow up, the Colter from (A) is now permanently inside the vessel of Sean. He and Christina are still alive. He sends an e-mail to Goodwin (B), and she visits what's left of the body of Colter (B) inside his incubator. In (B), Source Code still has not had a success, but Goodwin is aware that she may need to help him someday.
2) So what does it mean that there are two Colters in (B)? What happens to Sean?
The film raises an interesting question about the nature of souls and consciousness in general.
Not to digress, but I appreciate the parallel to Robocop. Since both Colter and Murphy were essentially dead, the government agency they served feels they have a right to use their body and mind for a new purpose, and we're left to wonder where consciousness itself resides.
With that being said, in both (A) and (B) there is physically only one Colter and only one Sean. Sean (A) and Colter (A) both physically die. When Colter (A)'s soul is injected into Sean (B)'s body via his source code from (A), I believe Sean's "soul" then ceases to exist, effectively killing him.
However, how much can Colter continue to be Colter when he has the face and voice and body/brain of Sean? Personality is shaped most by memory and experience. Much like we inherit memories of progenitors in the form of instinct, Colter would likely now have some of Sean's instincts as well. All of this would contribute to some sort of merging between the two identities to where what was Colter would just accept himself as Sean and start taking on more of his characteristics. And if that's the case, then how much of Sean is really lost?
Besides, don't cry too hard for Sean. Not only is he never actually in the movie, but in some universe Sean actually prevented the terrorist attack by himself without any sort of intervention.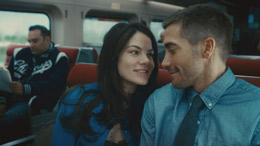 I do find it interesting to think about the fact that two Colter souls exist in (B). I also love toying with the idea that since the program has been going for two months without success at the start of (A) and (B), this raises the possibility that multiple other exercises did succeed in other timelines and they all ended with a similar split? This would mean that timeline (A) could be something like timeline (E), and now in (F) Colter has successfully permanently transferred into five other vessel bodies, none of which would ever have any knowledge of each other.
3) In the middle of the movie, why does the isolation unit break down and grow cold?
The isolation unit does not physically exist. It's a construct of Colter's mind and as such follows a bit of dream logic. It resembles a cockpit from a simulation at first because that's what the situation most resembles to him based on his experiences up to that point.
When he dies within the source code for the first time outside of the explosion, he actually suspects he's really dead. The physical breakdown of the isolation unit represents a mental breakdown for him. It takes him repairing the unit to mentally stabilize enough to continue. This is also why the room's physical properties change once he starts to process its true nature.
4) So what happens if Colter/Sean dies now?
Since every source code trip represents a separate branching timeline, and every time Sean's body dies Colter returns to the isolation unit, what happens if Sean (B) dies? I'd imagine nothing different then what happens to anybody else when they die. Colter returning to the unit had everything to do with the equipment he was physically tethered to. With his body dying in (A) he'd have nowhere to return to and just cease to exist or he'd join whatever afterlife is possible in that universe. After all, if there are infinite universes, an afterlife has to exist in some of them, right?
---
Now here's the biggest question I'd like to see discussed:
How much of the film is possible based on current science? Is anything demonstrably not possible?
Please share your thoughts or questions in the comments!