RottenTomatoes.com is reporting today that Oscar-nominated actor Paul Giamatti will play Colonel Parker in a prequel to Bubba Ho-Tep, the legendary 2002 cult flick that starred Bruce Campbell as an aged Elvis Presley fighting off an Egyptian mummy with the help of John F. Kennedy (the late Ossie Davis).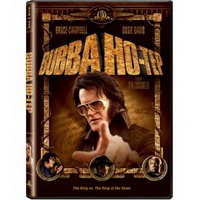 The prospect of this team-up just blows my mind. As you know, we here at Scene-Stealers are huge Bruce fans. I even got to interview him on camera when he was in town promoting The Man With the Screaming Brain. Check out my two part interview here:
What's so perfect, however, is that Giamatti– one of Hollywood's most respected character actors (robbed of nominations in American Splendor and Sideways, and finally nominated for Cinderella Man, a sub-par movie)– would be cool enough to do this.
Then again, his upcoming movie Shoot 'em Up (co-starring Clive Owen and Monica Belucci) looks like a total B-movie, with its tongue firmly planted in its cheek. From what I've read, Giamatti plays a gun crazy bad guy(!) and all the action scenes are extremely silly and way, way over-the-top.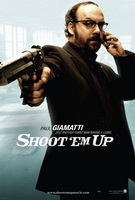 Here's the original story about Bubba Nosferatu below:
From RottenTomatoes.com—
In the "things that sound awesome but can't possibly be true" department, Paul Giamatti is listed in the cast of Bubba Nosferatu. The prequel to Bubba Ho-Tep would have Bruce Campbell's Elvis Presley battle vampires. But come on, acclaimed thespian Paul Giamatti would never do a low budget camp movie, right?
"I would really like to do that," Giamatti revealed. "Did you ever see Bubba Ho-Tep? Great movie. And that director [Don Coscarelli], I love that guy's movies.  All the Phantasm movies and stuff. But we are trying to do it."
A commitment like that should be money in the bank for Coscarelli, but it turns out B-movie legend Bruce Campbell himself may be the hold up.
"Bruce Campbell was waffling around about whether he wants to play Elvis or not again. So that's the problem, Giamatti says, "I'm playing Colonel Parker, which will be great, but you gotta have Elvis and you really want him playing Elvis, so hopefully we can get him to do it. If not, I'm sure they will try and find somebody else but I think it's contingent on whether he'll do it or not. It's a great script, a completely insane script. I would love to do that because I love [Bubba Ho-Tep]. It's a great movie."