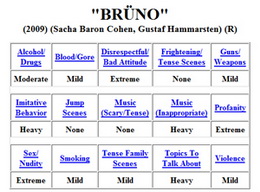 You know, these kinds of sites bug the crap out of me. It is utterly ridiculous to watch a film and count the dirty words, instances of nudity, or whatever little moment trips your moral compass up. It's even sillier to then print them out on a website, completely free of context, and try to pass some kind of judgment. There are kid-oriented TV shows and movies out there that are rubbish and teach corrupt values as shallow as a baby pool, but because they don't talk about sex or curse, they are marketed as kid-friendly material. Rather than do any work  to find out about them, some parents will just let their kids keep watching.
And then there's ""Brüno."
While Sacha Baron Cohen parodies such evils as our country's mass obsession with celebrity culture and fame, the out-of-touch fashion industry, Hollywood parents willing to sell their children out for almost anything, gay stereotypes, racial stereotypes, homophobia, terrorism, and corrupt moral crusaders, he does it in the most confrontational way possible. Cohen really pulls out all the stops here, taking his reality-based prank humor to new levels.

That is why the post that I found today at ScreenIt.com made me about fall out of my seat laughing.
Imagine this setup: Devious little teenager Freddy tells Mom he wants to see the movie all the kids are talking about. Mom goes to the site to check out content and reads, "While with some hunters, Brüno states he never killed an animal, but once suffocated a hamster (a gay joke)."
That particular quote is filed under the unbelievably lengthy "SEX/NUDITY" category. Some of the best highlights form this category include (SPOILER ALERT!):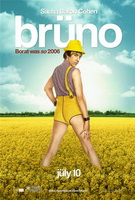 — We see Brüno in small shorts that show part of the lower section of his bare butt.
— Brüno tries to get into a fashion show but is refused, and he tells the man that they had sex nine times and "you tried to make my face pregnant."
— We see a montage of Brüno and his male lover, Diesel, engaged in sexual acts. That includes Diesel on a stationary exercise bike where his pedaling moves a pole (with a dildo on the end) in and out of Brüno's rear (a black circle is visually superimposed over the actual contact area); Brüno using a fire extinguisher inserted into Diesel's rear (ditto the black circle); Brüno stretching the long rubber bands on a huge slingshot so that he's propelled — butt first — back onto his lover's unseen penis (another black circle); Brüno spinning Diesel around like a clock hand on his penis (black circle); that man using a dust buster type device on Brüno's penis and scrotum (fully seen flapping around inside that); and Diesel with a bottle of champagne up his butt and Brüno picking him up and pouring the champagne from that position. 
…and finally…horrifyingly…
— Paula Abdul shows cleavage.
Did I mention that those examples are only in the first 15 of listed obscene moments out of at least 200? Whomever had to compile all this info must have seen the movie more than once, which really makes me laugh.
Also, I love it when they explain the joke. It's so much funnier that way:
— Brüno visits a martial arts instructor and informs the man that he needs to learn how to defend himself against gays who "want to schtup me." The man says they'll probably attack from behind, so he shows Brüno what to do in that case, with the joke being that Brüno is coming on to that man in increasingly exaggerated ways.
— [Conservative politician Ron] Paul storms out, angry about the "queer," while Brüno laments that he couldn't even "schtup" RuPaul (confusing the cross-dresser with the politician).
— Brüno comments (sarcasm on the part of the film) about Tom Cruise, John Travolta and Kevin Spacey being straight actors.
…and after all that, filed under IMITATIVE BEHAVIOR, would you ever have figured that…
— Mad people appear to give "the finger" to the camera.(?)
or, God forbid…
— Various miscellaneous characters have tattoos.
Filed under DISRESPECTFUL/BAD ATTITUDE is a quote from a "male martial arts instructor that states that gay people are like terrorists in that you can't always identify them."
And lastly, somehow(?), this is filed under BLOOD/GORE:
— Brüno goes to an "anal bleaching salon" where we see him on all fours with his pants down, while a female worker waxes and bleaches him there (we don't see the actual contact, but do see the side of his bare butt). Brüno talks of another place where the workers were exhausted after waxing Selma Hayek's pubic area, saying they got enough to stuff a mattress. While he talks his agent on the phone, Brüno tells the woman if she could take her finger out of his "ass" (not seen).
So while the "parental review" is basically a listing of objectionable content, an unnamed reviewer (How lame is that?) also takes a stab at an "artistic review" of the movie elsewhere on the site, giving it a 4 out of 10. The best and most hypocritical part of that review?
"I'm not particularly proud of what I ended up laughing at as it's undeniable (sp) offensive and outrageous in all sorts of ways (viewer response will vary wildly, just like last time), but that's the very nature of laughter — it erupts whenever and wherever it wants."
In other words, "I laughed a lot and felt dirty and ashamed. That laughter was bad. Forgive me. This movie is fucking hilarious, but just because I laughed doesn't mean you should go see it. Shit happens!"