"A baby holds your hands, and then, suddenly, there's this huge man lifting you off the ground, and then he's gone. Where's that son?"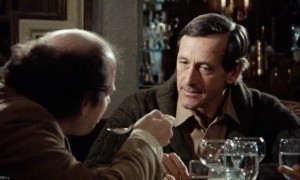 The most unfortunate perception of "My Dinner with Andre" a potential viewer can have is that it's a film that relies solely on its premise and central conceit to function. With one conversation—mostly one-sided—pervading 95 percent of the film, it's easy to see why it might be pegged as pretentious and vapid at face value, but a lengthy philosophical discussion between two New York intellectuals is hardly a logical gimmick to posit as one's selling point.
Where "My Dinner with Andre," directed by Louis Malle, written by and starring Wallace Shawn and Andre Gregory, instantly renders itself a masterpiece is in the content of its conversation and the endless, pulchritudinous imagery that materializes in accompaniment.
What other film offers as much in the way of visual detail and intrigue with such static, humdrum visuals actually presented? And what kind of film has a point-of-view this ripened and apropos decades after its release but a masterpiece? The most startling thing about the picture is how little it's aged.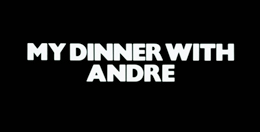 Playing semi-fictional versions of themselves, longtime friends and contemporaries Wallace Shawn and Andre Gregory meet for dinner in a New York restaurant after years of de facto estrangement, and delicately pry into one another's lives, offering passive-aggressive critiques on the coattails of mutual astonishment.
Andre regales Wally with stories of esoteric theatrical and spiritual experiences in weird locations across the globe, of bizarre rituals and time spent living in a Polish forest with a foreign theatre troupe, eventually steering the conversation into the broader existential issues of meaning and moral decay in the modern technological world. Wally is basically content, though admittedly struggling to get by, and sees no reason to commit to any kind of spirituality or deliberately simplistic lifestyle, while Andre asserts a serious distrust of the world's power structures along with a fondness for Eastern minimalism.
The two exchange opinions with varying degrees of politeness and finally fall into a kind of nostalgic banter, agreeing to disagree but waxing sentimental concurrently. The empty, lamp-lit restaurant during the last stretch of conversation and the wistful piano that follows are tonally perfect, as is Shawn's closing narration.
Gene Siskel once said that a film must be at least as interesting as would be a documentary of its director and stars at dinner in order to warrant an endorsement. Whether or not there's an a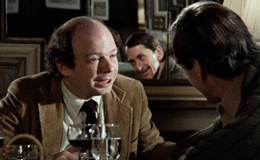 ctual connection between that particular philosophy and this film, the implication is obvious. In a way, the film is its own documentary.
More than the largely appealing discussions of issues themselves is the richness of visual information in the spoken dialogue and how deeply it transcends the limitations (whatever they may be) of the film's single set dynamic. Gregory and Shawn are natural, engaging storytellers, and the former proselytizes on behalf of human progress in the gentlest, most quietly persuasive way imaginable. Doubly profound is how almost all of what he says in that regard is eerily pertinent today, and to an even greater degree. Something like the internet, for example, has all the potential in the world to be a positive force more often than not, but in its all too predictable current, corporate-sponsored incarnation, it's little more than alienating. The same could be said of most consumer technology.
"My Dinner with Andre" operates on several levels, all sustained by a singular conversation, and has a way of incrementally interrupting itself on its way to emotional moments with new ideas, until it finally boils over in an outpouring of bittersweet frankness. It's a testament to the power of pure storytelling and the exchange of ideas in the presence of an engaged audience.