"Propaganda is to a democracy what the bludgeon is to a totalitarian state."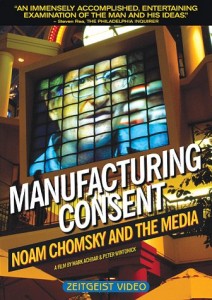 Providing both a riveting portrait of Noam Chomsky as a figure in the American political and academic landscapes as well as a thorough exploration of its titular thesis, "Manufacturing Consent: Noam Chomsky and the Media" is as fluid and richly cinematic a documentary as one is likely to see.
Unlike the equal parts intimate and theatrically calibrated films of, say, Michael Moore, this particular feature, made in 1992, registers with a kind of purity of objective educational content not unlike the works of its de facto protagonist. And it's in this vein that its richly cinematic presentation is most commendable.
Clocking in at nearly three hours, "Manufacturing Consent" is carefully constructed. Chomsky's constant presence in the global lecture circuit is shown right off the bat, along with certain biographical details of formative experiences and interpersonal relationships, and in doing so the film presents a humanizing, non-sensationalistic context to engage the viewer in the topic(s) at hand.
At the forefront and foundation of all others explored, the topic of primary concern is conveniently situated in the film's title. The manufacturing of consent, examined originally in the book "Manufacturing Consent: The Political Economy of the Mass Media" co-authored by Chomsky and economist/media analyst Edward S. Herman, is essentially the what-should-be-tautological notion that mass media in the United States functions more or less as an indoctrinating mechanism of popular control in lieu of more blatantly tyrannical methods seen elsewhere in the world (and throughout history).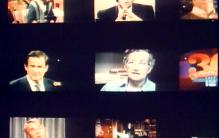 Stark example after stark example point to the uniformity of corporate media's adherence to the bottom line, and most of it boils down to a few basic assumptions; these include the U.S.' inherent benevolence in foreign affairs, its alleged functioning democratic institutions, and a serious subservience to authority. It's within this framework that all media operates, and it's this framework that allows for humanitarian offenses on a massive scale to persist and even thrive.
Roughly halfway through, the incidental, approximate "controlled experiment" of Cambodian atrocities alongside Indonesian atrocities of comparable magnitude is raised with provocative precision. The latter's virtual exclusion from mainstream media in the United States when compared to the overwhelming coverage of the former is indicative of a fundamental understanding in news reporting: crimes of official enemies are decried and even exaggerated while our crimes and those of our allies are either ignored entirely or briskly rationalized and then pushed aside.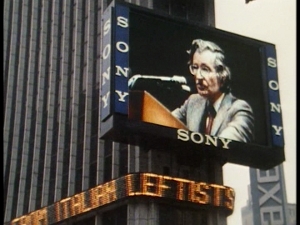 For such a lengthy production covering so many facets of its central idea, it's a remarkably focused and narratively coherent enterprise. There's no flurry of data ill-contextualized to befuddle the viewer, and Chomsky's matter-of-fact explanations are actually, for being so erudite, incredibly accessible. The dynamic between the issue of media indoctrination and his personal struggles in that context is often complementary, and the shifts in focus flow and mesh seamlessly.
Existing in a pre-Internet stage of rapidly accelerating computer technology and accessibility, the film retains a shocking potency and sense of contemporary importance. Perhaps even more so than at the time of its release.
Or maybe that sense of pertinence rests on the fact that it's nearly 20 years old, in that it's often the case that accurate analysis rings truer down the line because progress necessitates certain realizations about the world around us. And a lot has happened in the past decade to directly strengthen what the film suggests.
Watch the entire film for free on Hulu: