Sometimes less truly is more, even when it flies under the radar. Such is the case with today's excellent Overlooked Movie — one that is crying out for a deluxe Blu-ray reissue and a critical re-evaluation.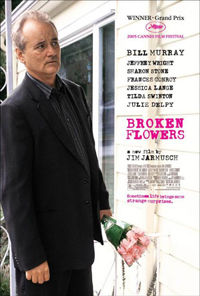 Bill Murray has virtually cornered the market on understated acting, while writer/director Jim Jarmusch ("Dead Man," "Down by Law") has always specialized in quirky, meditative portraits. The combination of the two in 2005 brought us "Broken Flowers," a compelling portrait of loneliness that got decent if not overenthusiastic reviews, but doesn't get talked about much anymore.
Maybe it was too subtle, or maybe the revelation about the character seemingly too minor, but "Broken Flowers" ranks up there as one of Jarmusch's best works, and is easily my favorite of  his because of a deep connection I felt with it immediately.
Jarmusch's specializes in mysterious loners, and this one bears the unfortunate name of Don Johnston – which must be repeated every time Murray introduces himself, stressing the "t." It's an uncomfortable laugh that never gets old because it is never played as a joke. Other peoples' reactions are painfully frank, and Murray's thinly veiled, fake patience is just one of the many subtleties that make his performance a real pleasure.
Don is a stoic, yet clearly broken, man. A recent retiree who has made a nice living for himself "in computers" but doesn't even have one in his house, he is suffering from unspecified existential angst. We never learn exactly how he made his fortune. In fact, the film is not much for minor details, which is part of its appeal, preferring to allow viewers to see ourselves more easily in many of the all-too-real characters.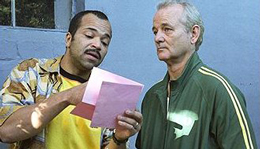 After the devoutly unattached Don Juan receives an unsigned letter from one of his old flames, his inquisitive neighbor Winston (a superb Jeffrey Wright), who lives several tax brackets below him, takes the initiative to book flights, rental cars, and hotels for his unlikely friend. If the note is true, then Don has a 19-year old son who may be coming to look for him. Winston sees this as a sign that Don must visit his ex-girlfriends in order to unlock his past and bring some purpose to his empty life.
Don's apathy is oppositely reflected in Winston's vigor – unlike his rich friend, he has three jobs, a slew of kids, a wife, and barely enough time to foster his newest obsession with mystery novels. He is supremely busy, and Jarmusch often cleverly frames him through windows, or getting in or out of his car. Wright and Murray make an odd couple, but they have a natural and believable camaraderie, along with some superb comic timing.
Winston wants to help his friend, so he does all the planning, and pushes Don into the trip with a specially made mix CD for the occasion. "Broken Flowers" takes its time and moves slow, making it easier to notice the film's many authentic details (such as Don's car trip from every airport beginning with the same song – track one of the mix CD).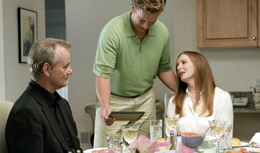 The astute minimalist script, written specifically for Murray by the director, has lots of small moments that loom large in the wider picture of Don's life. When his current girlfriend, played by Julie Delpy, leaves him, she sums up his utter detachment from life perfectly: "I feel like your mistress," she says to Don, walking out the door, "only you're not married." After she's gone, he resumes doing what he was doing before – sitting blankly on the couch.
Jarmusch sets a mellow pace that transfixes, employing quiet fade-outs to black after every scene, and slow fade-ins to begin the next. For example, when the camera fades up from Don on the couch, he is in the same spot, except face down now, just waking up.
This editing style allows us to imagine time in Murray's shoes. The scenes Jarmusch chooses to show us may seem common enough at first, but are infinitely revealing – like when Don sees qualities of himself in young man on the bus — a smartly dressed, handsome young man who is being ogled by some teenage girls. It's a wake-up call when he realizes how sad is gaze is, and its a great moment that points out how Jarmusch is actually showing us very precise snapshots that are only deceivingly mundane.
All of the women (Sharon Stone, Jessica Lange, Tilda Swinton) portraying the exes are equally good, but Frances Conroy ("Six Feet Under") is particularly heartbreaking as Dora, an ex-hippie whose idealism has about-faced in adulthood. Conroy matches Murray's understated expressivism perfectly, and in a very brief scene together, they have a fleeting, tender connection and produce the biggest laugh of the film. Like all the laughs in "Broken Flowers," it rings with a painful truth.
In a movie full of quiet, telling moments, it is Don who puts it all together:
The past is dead. We don't know what the future will bring. So all we have is the present.