The upcoming Academy Award telecast on Feb. 22, 2009 will have contain something during the station breaks that no other Oscar broadcast has in 50 years.
Ads for other movies.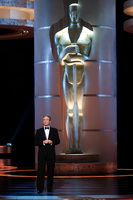 Any movie up for an award is still prohibited form advertising during commercials, but during this downturn in the movie business, the studios are hoping that they will be able to promote big spring and summer releases on the show, which attracts exactly the kind of market they want to reach– moviegoers. From the LA Times:
Looking to save its primary source of revenue, the Academy of Motion Picture Arts and Sciences has lifted its longtime ban on running commercials for movies during the Oscars.
Board members voted late Tuesday to ditch a tradition that stretches back more than 50 years and — in the eyes of some — was a relic from a simpler and less competitive era. The move comes amid concerns over the softening TV advertising market and lower ratings for Hollywood's biggest event of the year.
"The revenue from the show fuels our programs all over the world," Academy President Sid Ganis said. The academy generates more than $65 million a year in TV license fee revenue from Walt Disney Co.'s ABC television network and foreign channels.
"That's a lot of dough, and it's very important to us," Ganis said. "Since the show is a celebration of movies, why not let upcoming movies represent themselves in a way that is intelligent and smart and not offensive to anyone?"
The ban was put in place in the early 1950s, when the Academy Awards were first broadcast. At the time, the academy fretted that commercials for films during the show would be unseemly and viewers could conclude that the awards were influenced by the studios that bought the ads. In recent years, some — including ABC — have lobbied to reverse the prohibition.
Read more here.