The Academy of Motion Picture Arts and Sciences announced today the seven films that have been shortlisted and still have a shot for the Oscar for best visual effects.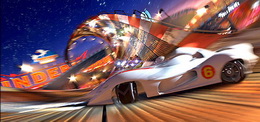 "Australia"
"The Curious Case of Benjamin Button"
"The Dark Knight"
"Hellboy II: The Golden Army"
"Iron Man"
"Journey to the Center of the Earth"
"The Mummy: Tomb of the Dragon Emperor"
And of course, the one movie that every effects house in town worked on was left off the list, probably because it was too silly and its colors were too bright and it's edits were too fast. I didn't expect "Speed Racer" to get any other nods, but considering that the VFX artists basically became virtual cinematographers, this is soooooooo damned lame. To read more about why this is so wrong, read my SIGGRAPH 2008 blog from L.A., written after a panel featuring talented artists from BUF, Digital Domain, Sony Pictures Imageworks, and Industrial Light & Magic.
Also, "Mummy" and "Australia" over "Cloverfield"? Sad and wrong.