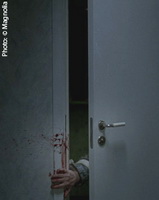 "Let the Right One In" will not be competeing for an Academy Award this year. This happened a while ago, but with the shortlist being announced yesterday, it's new news to me. Each country is allowed one submission and Sweden chose "Everlasting Moments" instead. Turns out, though, that it may be the Academy's difficult and silly eligibility rules that kept the "right one" out this year. It could be that Sweden didn't choose it because he film is not eligible before next year. The eligibility year is not a calendar year for this category, and "Let the Right One In"  premiered in the U.S. after September 30, 2008. I've been doing research online to find out if this is the eactual reason Sweden never submitted the film. If you can find a reliable source that confirms this, please leave a comment!
From ComingSoon.net: Nine films will advance to the next round of voting in the Foreign Language Film category for the 81st Academy Awards. Sixty-five films had originally qualified in the category.
The films, listed in alphabetical order by country, are:
Austria, Revanche, Gotz Spielmann, director;
Canada, The Necessities of Life, Benoit Pilon, director;
France, The Class, Laurent Cantet, director;
Germany, The Baader Meinhof Complex, Uli Edel, director;
Israel, Waltz with Bashir, Ari Folman, director;
Japan, Departures, Yojiro Takita, director;
Mexico, Tear This Heart Out, Roberto Sneider, director;
Sweden, Everlasting Moments, Jan Troell, director;
Turkey, 3 Monkeys, Nuri Bilge Ceylan, director.
In the meantime, "Let the Right One In" competed directly with  the movie Sweden chose instead in that country's movie awrdsjust two days ago. Variety reports that "Let the Right One In" won five awards at the Golden Bugs, the equivalent of the Oscars in its native Sweden. The ceremony took place Monday night.
The movie took prizes for Director (Tomas Alfredson), Script (John Ajvide Lindqvist, based on his novel), Cinematography (Hoyte van Hoytema), Set Design (Eva Noren) and Sound (Per Sundstrom and Ljudteamet). When it came time for the biggie, though, Best Film, it lost out to Jan Troell's "Everlasting Moments."