Since "Tropic Thunder" was released three weeks ago, there hasn't been much in the way of quality mainstream films in the theaters, which is good news for Ben Stiller's edgy comedy. Having spent three weeks on top of the weekend box office chart, it's now tallied up over $87 million. It's also good news for "The Dark Knight" which holds slow but steady at #3, having amassed $505 million so far in pursuit of the all-time domestic gross record held by "Titanic"—that seemingly impossible $600 million mark.
Let's call it the post-blockbuster/summer hangover. Maybe it can join the early months of every year as a graveyard for really bad movies.
Since "Tropic Thunder," it's been pretty slim pickins. Check this slate of releases: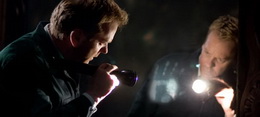 "Mirrors" – After using up cell phones and TV sets, the desperate horror genre switches to more everyday household items. What's next? "Spoons"? Starring Kiefer Sutherland, who ought to choose his movies better now that he's a TV star.
"Death Race" – A remake of Roger Corman's 1975 B-movie "Death Race 2000" and proof that Joan Allen and "Deadwood"'s Ian McShane must really be hurting for cash.
"The House Bunny" – A comedy about a Playboy bunny who ends up in a sorority; headlined by Anna Faris.
"The Longshots" – An Ice Cube family-friendly comedy directed by … wait for it … Fred Durst from Limp Bizkit.
"The Rocker" – A limp comedy starring Rainn Wilson (so funny on "The Ofiice", so desperate for laughs here) that can't decide whether it's a Disney movie (Teddy Gieger is so cute) or not (Jason Sudeikis is wickedly funny and way too naughty for the rest of the movie).
"Disaster Movie" – Hopefully the final death throes of a spoof series from Jason Friedberg and Aaron Seltzer that doesn't understand that being simply timely with your parodies is not enough, you have to have something to say as well.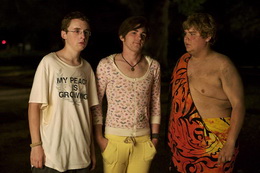 "College" – A preview with a fat kid squeezing his man-boobs together is supposed to make me think this is a hip, dirty teen movie like "Superbad," right?
"Traitor" – A barely-publicized thriller starring Don Cheadle.
"Hamlet 2" – Steve Coogan tries really hard and the studio advertised everywhere, but audiences still stayed away. My review.
"Babylon A.D." – Vin Diesel goes all action-y again. From the opening weekend gross of this movie, it looks like he better stick to changing diapers like he did in "The Pacifier."
Here's the thing. Half of these movies we weren't even allowed to see advance screenings of. There was nothing new to see last week except "Babylon A.D.," but I couldn't see it because there was no press screening. This week is Nicolas Cage's verb-challenged "Bangkok Dangerous" and there is no press screening for that either. Bad sign.
You can't always count on it, but usually the lack of a press screening means that the movie studio is trying to hide their stinker from the press as long as possible so as not to adversely affect that precious opening weekend. This reaffirms my new belief that late August/early September are the new dumping grounds. Hell, if Jan./Feb. is the spot for pre-Oscar poo, then Aug./Sept. must be the spot for pre-awards season poo.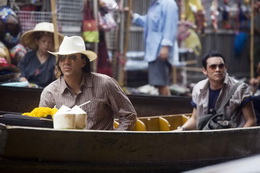 As a member of the KC Film Critic's Circle, I'm actually obliged to embargo any movie that isn't screened for the local press at least two days before its release date (allowing us to meet our opening day deadline). That's the only little bit of power we have over them—to not give press to the movies they won't screen for us.
So, needless to say, there is no new movie review this week. Has anyone else seen any of the above films? If so, let us know. In the meantime, go see "Man On Wire." Check out my review here. It's a nice antidote for a summer of superheroes and special effects (not that there's anything wrong with that, it's just that I need a break before "Watchmen"). It's thrilling and fascinating, and it's a documentary. Give it a try.
Or…venture into the multiplex this weekend for a little "Bangkok Dangerous," a movie whose very title seems to be trying to keep you away—some kind of warning in broken English, like "Movie Shitty."