from New York magazine:
A Peek at the Movie 'Chuck & Larry' Could Have Been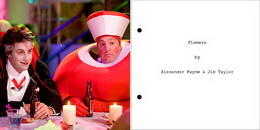 The reviews for the new Adam Sandler–Kevin James gay-panic comedy, I Now Pronounce You Chuck & Larry, are pretty abysmal, and a number of reviewers echo Manohla Dargis's question: What the hell are Alexander Payne and Jim Taylor's names doing on this movie? "It's next to impossible to reconcile Mr. Payne and Mr. Taylor, who excel in sharply honed, intelligent satire, with the crude laughs and nyuck-nyuck physical high jinks that characterize Chuck & Larry," she writes, and it's true that the pair, whose films include About Schmidt and Sideways, don't seem a match for a movie featuring Rob Schneider as a hiralious Asian priest.
That's because, we've learned, the finished version of I Now Pronounce You Chuck & Larry bears little resemblance to the script Payne and Taylor turned in several years ago. We're told their version of the script, a rewrite of credited writer Barry Fanaro's original, which Payne and Taylor handed in in 2005, convinced Adam Sandler to come aboard the project. Once he was on, Sandler did what he does with pretty much every movie he's in that isn't written by Paul Thomas Anderson: He gave the script an uncredited "polish" himself. (Other uncredited writers listed on the industry resource StudioSystem.com include Jon Favreau, Lowell Ganz, and Babaloo Mandel.)
And so Taylor and Payne's sensitive but sharply funny script about Philadelphia firefighters was turned into what reviewers call a "crass," "stupid" movie featuring a shower scene in which — you guessed it — someone drops the soap. What else did Sandler and other rewriters change? In Taylor and Payne's version, bereft widower and devoted dad Larry (eventually played by Kevin James) finds love with the politically aware lawyer defending their case. It's nicely handled and quite emotionally potent to watch this sad man find happiness, even though he's terrified of what it might do to his case. In the final version, it's Sandler's character, womanizer Chuck, who falls for Jessica Biel's lawyer, amid such emotionally rich moments as his squeezing her breasts while she says, "They're real, feel them!"
The character of Larry's son in Payne and Taylor's script is an aspiring figure skater whose sexuality seems to be in flux. He's sensitive to abuse taken at school and angrily rebels against Chuck and Larry's seeming union. In the final film, Larry's son is a dancer who, one reviewer points out, "wears Flashdance sweats, does the splits, uses his sister's E-Z-Bake Oven, and loves musical theater."
And in the dramatic conclusion of Payne and Taylor's script, Chuck and Larry kiss on the courthouse steps — "not just a timid exchange," the stage notes add, "but the long, passionate melting together of soul-mates. Tongues and everything. Hot. Wow." Needless to say, this scene never made it into the final version.
Flamers, as Payne and Taylor called their version, isn't perfect — its satire is shaggy, not sharp, and you can tell this is a script they rewrote for cash rather than writing for Payne to direct himself. But it's still good enough to mourn the provocative, funny, sensitive movie they might have made, rather than the preachy schlock it turned into.
The ability to post comments is coming soon, we promise!
Until then, here are some user-generated comments from my Adam Sandler post from Tuesday(read it here) on the Lawrence.com Scene-Stealers blog.
Posted by matt (Matt Armstrong) on July 24, 2007 at 9:17 a.m. (Suggest removal)
I was shocked at how little attention Punch Drunk Love got. It's one of the most beautiful movies I've ever seen. Emily Watson and Sandler play their individual neurosis' off each other so well that you root for them, like the couple in a more traditional romance. You know they need to be together because they're so broken individually. Excellent, excellent.
I'll have to check out Reign Over Me. Isn't that the movie with Shadow of the Colossus in it?
Posted by wbabbit (Will Babbit) on July 24, 2007 at 9:41 a.m. (Suggest removal)
Sorry, I have to disagree, I walked out of Punch Drunk Love about an hour in, I kept waiting for something…ANYTHING to happen. I realize it is supposed to be more subtle than that, but jeez…and what was with the damn piano!
Posted by chet_larock (anonymous) on July 24, 2007 at 9:47 a.m. (Suggest removal)
I liked Ferrell's performance in "Stranger Than Fiction"… I'm going to see if you all reviewed that one. That was more of a "serious" role for him, and I think he pulled it off well.
Posted by Shelby (anonymous) on July 24, 2007 at 11:21 a.m. (Suggest removal)
Eight Crazy Nights is without question one of the worst things produced by an American ever.
Posted by altheasus (Althea Schnacke) on July 24, 2007 at 2:20 p.m. (Suggest removal)
I really liked "Click", and while it was marketed as a typical Sandler comedy, it really went a different direction after the first half. That's also the only movie on your list I've seen all the way through.
And there's nothing wrong with always being the stupid funny guy and making money from it. He was doing that on "Cosby" and SNL, and it works. Maybe he'll take a twenty year break and have a comeback playing nothing but depressed, suicidal old men.
Posted by godjilla (Jill Ensley) on July 24, 2007 at 7:44 p.m. (Suggest removal)
I like Don Cheadle.
He is my favorite current actor.
He's in awesome movies.
Like Crash.
Posted by Shelby (anonymous) on July 25, 2007 at 4:28 p.m. (Suggest removal)
You might want to check out Eight Crazy Nights just because it's actually kind of amazing that anybody, LET ALONE a hollywood comedian, would come up with that stuff as something in the category of 'funny' rather than 'stupid and adolescent'…..but 'adolescent' is actually too kind, it's just what some junior high kid might come up with in an attempt to garner a chuckle from his dearest friends……and this isn't hyperbole, I'm dead serious, check it out. For real.
I guess I digress. Sorry.