In the introduction to the new anthology Film Noir The Directors, edited by Alain Silver and James Ursini, Silver quotes from the noir classic Double Indemnity, directed by Billy Wilder. Walter Neff, the prototypical noir protagonist (played by Fred MacMurray) confesses into a dictaphone: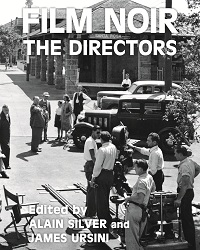 "I killed him for money—and a woman—and I didn't get the money and I didn't get the woman. Pretty, isn't it?"
That pretty much sums up the noir attitude. As Taxi Driver screenwriter Paul Schrader wrote in 1972, "Double Indemnity was the first film which played film noir for what is essentially was: small-time, unredeemed, unheroic."
The same could be said of some of the directors profiled by various contributors in Film Noir The Directors. Many directors like Wilder who found their voice or also dabbled in noir throughout their careers went on to make big names for themselves: Alfred Hitchcock, Orson Welles, John Huston, and Robert Wise, to name a few.
But there are plenty of directors who made seminal, lower profile contributions to the genre without ever making names for themselves. People like Gerd Oswald, Felix Feist, and John Brahm are in that category. Film Noir The Directors rectifies that situation, profiling these lesser-known directors right beside their famous contemporaries. This 476-page book discusses not only each director's career trajectory, but also a brief summation of common themes in their work and their best noir titles. 28 directors are profiled in all.
It's also filled with tons of publicity photos from the films—featuring both stills from the movies themselves and on-set behind-the-scenes stuff, all in glorious black and white.
For anyone looking to brush up on their knowledge of one of the more hotly debated of film genres (Are noir films defined by their lighting scheme and art direction or by their narrative themes?), Film Noir The Directors is a great place to start. Some of the contributors spend a little too much time on plot summaries, but discussing the specifics of a story is necessary to delve deeper into a movie's subtext, so I get that.
In the editors' section on director John Farrow, for instance, they compare the concept of control across his films The Big Clock and Night Has A Thousand Eyes, which was an adaptation of a Cornell Woolrich novel. They write: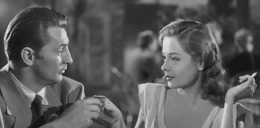 "Like most of Woolrich's work, the story revolves around images of darkness and time, images that threaten to swallow up the main characters fighting desperately for their lives against these two inexorable forces."
Film Noir The Directors isn't impenetrable for those brand new to the genre, but it is full or references and comparisons to other films and directors, as well as popular authors from the hard-bolied crime fiction world. In this way, the book can be used as an entry way into film noir and its origins as well as a never-ending recommendation list (although many titles in book are not readily available on home video or Netflix).
Reading Film Noir The Directors, I was constantly reminded that these post-war themes of cynicism and darkness were not even recognized as a film genre while most of these movies were in production. These stories sprouted up organically as reactions to a world that these screenwriters and directors saw significantly change in their lifetimes.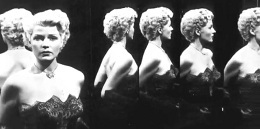 Certainly big-time movies that reflected hope and idealism were still popular at the box office after World War II, but the low budgets and tight schedules of noirs meant that there was also a steady stream of efficiently produced movies that reflected a more desperate side of humanity and didn't always have happy endings.
 Film Noir The Directors is an alluring look at the people who created these movies and it is a great companion piece—using François Truffaut and Andrew Sarris' auteur theory as a foundation of course—to the movies themselves. The essays do a consistently great job of pointing out common threads throughout each director's work and connecting these to the director's personal story and the bigger picture of the genre as a whole.