Here's the entire short film "Hotel Chevalier," directed by Wes Anderson. Enjoy!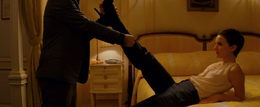 It's true. Here they are, the highly anticipated nude still shots from the free, downloadable iTunes 13-minute short film "Hotel Chevalier."  Nevermind that this is the prologue for an upcoming new movie by one of the most singular, exciting American directors working today– what everyone really wants to see is Natalie Portman naked! Oh well. I guess it's human nature. To watch the entire short film online without iTunes, click here.
In a perfect example of internet hype, "Hotel Chevalier" is here, and it isn't quite what the frothing masses expected– in more ways than one, I'm sure. Here are some stills from the movie, as promised.
They are definitely sexy, and framed artfully in that 2.40 CineScope mode the director is known for. But since they aren't as revealing as everyone hoped they'd be, I'm sure there is a lot of disappointed people out there.
What is more fascinating to me is that millions of movie fans who know Portman from "Star Wars" have now been treated to 13 minutes of a Wes Anderson movie, meant to work as a sort of introduction to his new film "The Darjeeling Limited," which rolls out next month slowly around the country. (It's even called Part 1 in the credits.)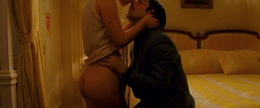 It is fun to see Portman in the dominant role here. You can tell alot about her and Jason Schwartzman's relationship from this one scene. Schwartzman, however, gets the best line in the movie, a quick comeback (in that very Anderson-style of deadpan) put up as a defense shield against getting hurt again by his ex.
The lighting is impeccable again, with yellow and dusk blue dominating everything, and the many symmetrical shots that make Anderson's movies so asthetically appealing. Shooting in Paris doesn't hurt either.
Don't forget another Anderson staple– the obscure pop song as soundtrack. This time its (see video at bottom of page) Peter Sarstedt's "Where Do You Go (My Lovely)," which Schwartzman plays on his– wait for it– iPod! (It could be product placement, even though this was filmed two years ago and is a really old model and they probably didn't have this iTunes deal set up way back then.)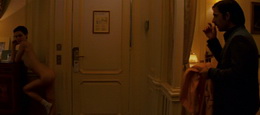 This is also most definitely the sexiest thing Anderson has ever done, the slo-mo long take at the end gives you plenty of time to feast your eyes on the framing of the shot and Portman's lovely figure, tastefully seen from only the side.
This campaign is actually the perfect example of what internet hype is all about (promises, promises), but with a sweet aftertaste. Most people went in with their prurient interest aroused and got something completely different– a nice little taste of Wes Anderson.
Will it translate into ticket sales? Who knows? Probably not, since Adrien Brody, Owen Wilson, and Jason Schwartzman don't have Portman's hot bod. (Then again, will people just assume that Portman is also in the full-length movie?) But it was a shrewd marketing move.
I would still like to see "Hotel Chevalier" on the big screen right before "Darjeeling," so I hold fast to my opinion about the decision by Fox to not accompany the full-length feature. But I will back down on saying the whole campaign was dumb dumb dumb. I'm even more excited to see "The Darjeeling Limited" now.