Millimeter and Digital Content Producer magazines have provided me with the opportunity to interview prominent directors and profile 10 short films that are appearing this week at the 2009 Sundance Film Festival in Park City, Utah. Just in case you missed it, here are all five podcast interviews from the BlogLive@Sundance Film Festival '09 that I conducted:
My first interview was with "Superbad" director Greg Mottola. Hear about his new movie "Adventureland" (starring Jesse Eisenberg, Kristen Stewart, Bill Hader, and Kristen Wiig) and get an exclusive preview of the challenge of creating a CGI character on the new Simon Pegg/Nick Frost movie he's currently working on called "Paul." Click here to hear my interview with Greg Mottola.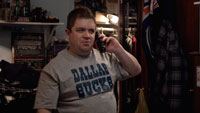 Robert Siegel (who was recently nominated for a Writer's Guild Award and used to be the editor-in-chief of The Onion) arrives at this year's Sundance Film Festival with his directorial debut, "Big Fan," starring Patton Oswalt, and the movie is in the dramatic film competition. Listen to my interview with Siegel in this exclusive audio podcast and find out why casting was so important on both movies and what he learned about directing from Aronofsky!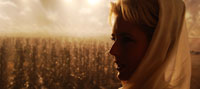 If you've seen "Northfork" or "Twin Falls Idaho," then you are familiar with the kind of "heightend reality" that the writing/directing/producing team of Mark and Michael Polish can produce. "Manure" is the third trip to Sundance for the twin brothers, and it stars Billy Bob Thornton, Tea Leoni, Kyle MacLachlan, and Ed Helms. The film was shot completely on soundstages and the production design did their best to keep the entire film in different shades of brown. Listen to my audio interview with "Manure" director Michael Polish.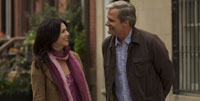 Former standup comedian John Hindman is heavily influenced by Woody Allen, James L. Brooks, and Sydney Pollack. When it came time to direct his own script for "Arlen Faber," he turned to a Hollywood veteran who is well-known for tackling tricky roles in independent films. Jeff Daniels joined on as the title character in Hindman's film early on and that helped the filmmaker gett funding to make the movie, which is competing in the dramatic competetion at Sundance this year. It also co-stars Lauren Graham, Olivia Thirlby, and Kat Dennings. Find out what happens when you quit feeding the crew in my audio podcast with John Hindman.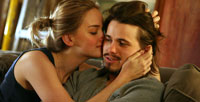 "Peter and Vandy" was adapted from a 2002 play written by and starring the film's director, Jay DiPietro. For the movie, DiPietro cast Jason Ritter and Jess Weixler as the title couple and had to expand way beyond the production limitations of a two-character play that took place in one living room. Learn about the challenges of adapting your own play into a feature film in my interview with writer/director Jay DiPietro.