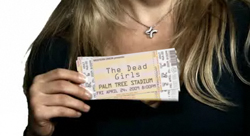 I don't usually post things about online promos for movies, but the new site for the upcoming thriller "Obsessed" may just be the most ingenious web promo ever.
Seriously.
Especially if you know a lot about a friend of yours who happens to be attached. Someone just sent this to me, and it certainly got my attention. If they play in a band, that's an extra added bonus. Click on the screen grabs to see the video.
It was a little strange when Ali Larter called me "lover," but when she produced concert tickets to see my band, The Dead Girls, that was really weird.
But when she started spouting personal facts about me and had a photo of me framed and was holding it to her chest, it only got weirder.
I'm assuming the movie is some kind of "Fatal Attraction" thing and she plays the Glenn Close character, but who ever the promo person for Sony/Screen Gems is, they deserve a huge raise. And how cool is Ali Larter for filming this?
The site asks you: "Wanna play a trick on your friends?" To make your own stalker video with Ali Larter getting obsessive with one of your friends, just click on the banner below.