Saturday night Kansas City excitedly waited for the very first Mondo event at the new Alamo Drafthouse Mainstreet. For those readers who are unaware of Mondo, it's a company that makes alternative, limited edition movie posters for both new and classic films.
Mondo then holds screenings and offers these posters to the public. This particular screening was of The Goonies and was completely sold out. Looking into the crowd, you could tell the fans were ready, with food and drink in one hand and poster tubes in the other. Justin Ishmael, curator of Mondo, shortly took the mic, mentioning that he was originally from Kansas City and that he moved to Austin specifically for Alamo Drafthouse.
He also mentioned his shock that he was back home with the company he originally left for. Though the plan was to wait for the poster unveiling until after the film, there was a slight technical issue that caused the crowd to see the poster before. Laughing off the flub, we started the screening.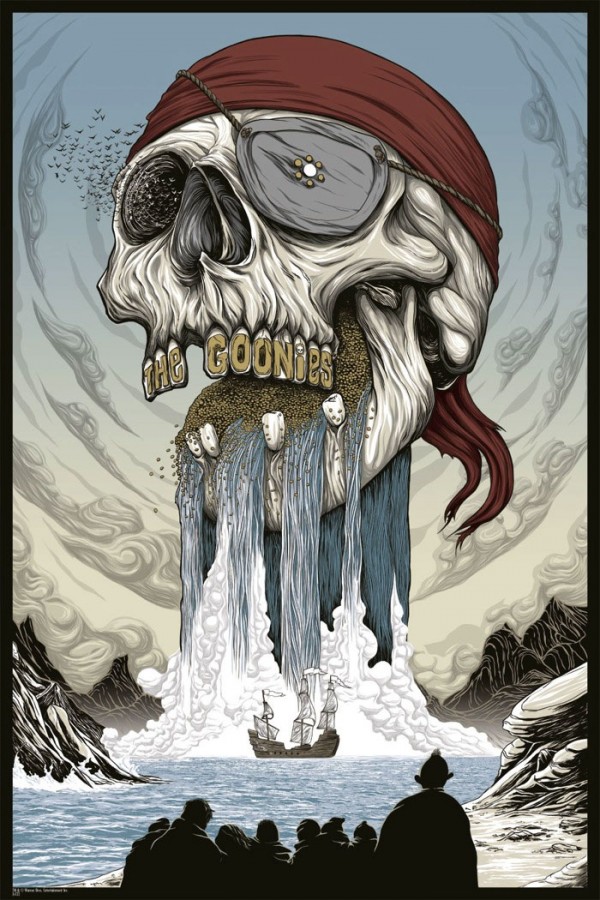 The Goonies was just as fun as I remember it, but I was honestly interested in what came next. After the screening, Justin came back to say a few last words, and unveil the poster by Randy Ortiz. The audience quickly exited the theatre to line up for poster purchase, and encountered a second group stationed across the lobby waiting to purchase leftovers. After everyone got a poster, we got a chance to ask Justin a few questions about the event, and how he felt about Kansas City.
Overall, I was very impressed with the event. Hearing plans of what Alamo Drafthouse plans on doing with the Mainstreet Theater has me very excited. This is the type of theater Kansas City has been in need of. The potential is there, and I'm excited to see these types of events flourish in KC.