If Tim Burton made an X-Men or Harry Potter movie, it might look something like Miss Peregrine's Home for Peculiar Children. Unfortunately, this adaptation of the children's book series from author Ransom Riggs has all the visual style and flair we've come to expect from Burton, but holy hell, there's so much going on it's hard to care for any of it.
The film hits the ground running and never really properly introduces us to this strange new world. We're introduced to Jake (Asa Butterfield) after his grandfather is found dead. Jake remembers stories his grandfather (always awesome to see Terence Stamp) told him as a kid about living in a home for "special" kids and sets out to find out if his grandpa is a wackadoo or not.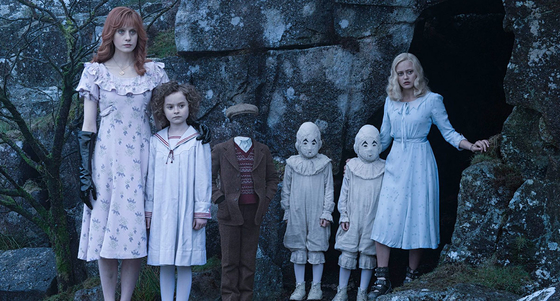 What he discovers is beyond his wildest imagination. His introduction to Miss Peregrine (played by Eva Green) and her peculiar housemates, including a girl who can simply float on air, another girl who can make things grow (trees, etc.), a couple of freaky little twins with burlap bags over their heads (yes, there's a reason) and a bunch of other freaks; is fun, and they're all interesting characters in their own right. It's easy to see Burton's draw to the material. Yet we don't spend enough time to truly get to know them.
The film is at it's best when it's showing off it's bizarre characters and allowing the audience to soak in the spectacle of the environment, really teasing a premise that's a lot of fun. But, when it's time to drive the plot bus, things get a little icky. It's too easy to say a Burton film is overstuffed or bloated, but the material from Rigg's first book in the Miss Peregrine's series has far too much going on to be crammed into a 2-hour-plus movie — the flick runs 2 hours and 16 minutes and it feels every bit as long.
And of course, there's a bad guy — well, monsters (invisible monsters called hollowgasts). There wouldn't be a movie (book, whatever) if there wasn't. Our big bad villain comes in the form of a white haired, white eyed, Samuel L. Jackson, looking freaky as hell. He's the leader of these invisible monsters and he is about as over the top as we've seen him in a long time. Usually that can be fun, but at times it feels flat and uninspired.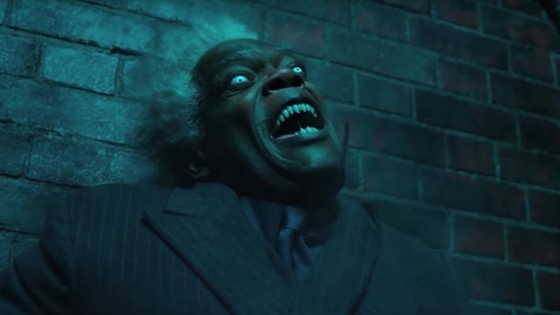 In order to protect the children, Miss Peregrine creates a time loop, which, without divulging too many of the films "secrets", sets up a huge time travel thread that there just isn't enough time for that shit to make sense. The film jumps between an undetermined present day and a specific day during WWII that is looping over and over, which seems to set up a lot of bleak, sad story lines that are never fully explored. And therein lies the number one problem with adapting a book into a movie. Sometimes there's just too much to explain, especially when you're setting up something so fresh and original, that you run the risk of explaining too much or explaining too little. Burton somehow manages to do both.
The films' tone is bizarre and kind of all over the place. For the most part it's light and fun and very family-friendly. But man, when it gets dark it gets kinda scary. Those invisible monsters? To accomplish their goals, they need to eat children's eye balls. Yep. So, it might be a good idea to keep the more sensitive kiddos away from this one.
Miss Peregrine's Home for Peculiar Children is a fascinating story that seems right up Burton's freaky isle, but dammit if it doesn't waste far too much time either explaining what the hell is going on or feeding the audience red herrings. I don't normally like to sit on a fence, but that's where this movie forces me.
There's not enough to love it and not nearly enough depth and heart to want to. Burton scores points for his wicked visual style, but the film falls flat because after all the madness, it's nearly impossible to care about any of it.