This past month has already seen the Middle of the Map Forum and Music Fest. Now it's time for the movie fans to have their day in what is becoming a premiere annual event in Kansas City.

The Middle of the Map Film Fest starts starts next week, running May 1 – 5 at the Alamo Drafthouse Mainstreet Theater. The lineup is a film lover's dream, people.
The official summary says: Ink's Middle of the Map Film Fest is simply aimed at rewarding audiences with excellent cinematic experiences. Join us for 5 nights and over 25 feature films, independent films, award winning films, rockumentaries, documentaries, Alamo Drafthouse experiences, cosplay/fanfare parties and shorts programs to take part in what will change the map in this first year addition to the festival.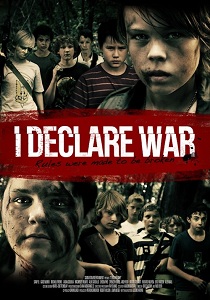 Here's the insane part: Tickets to the whole thing — five days of film frivolity — are only $25!
These are just a few of the highlights off the top of my head:
Labyrinth – The 1986 Jim Henson-directed Gothic fantasy starring a bunch of Muppet-like creatures, a young Jennifer Connelly, and a bizarre-looking David Bowie kicks things off on May 1 with kickass local band Soft Reeds performing David Bowie songs live in the theater! More.
I Declare War – This fascinating indie pic won the Audience Award at Fantastic Fest. Besides being a Lord of the Flies-style story where everything spirals out of control and deeper truths are revealed, I Declare War has a neat trick up its sleeve that helps this heightened reality seem as life and death as to the audience as it does to it's teenagers: It depicts the grim reality of what kids' little war games would look like if they were real. Figuring out who you are and where you fit in when you're young can feel like war. I Declare War brings all those feelings rushing back and is rousing, funny, thoughtful entertainment to boot. More.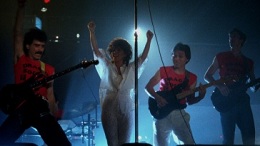 Miami Connection – This is a cult classic in the making if there ever was one. Miami Connection is one of those rare films where the positive energy exuded by its oh-so-amateur cast and crew starts to rub off on you, despite the fact that almost all of the basic tenets of motion-picture storytelling are non-existent. Read my full review of this great, refreshing new discovery and go see this one with a crowd! More.
Somebody Up There Likes Me – Nick Offerman (Ron Swanson from TV's Parks and Recreation) produced and stars in this offbeat dramatic/comedic independent film from director Bob Byington that's been making the festival rounds. More.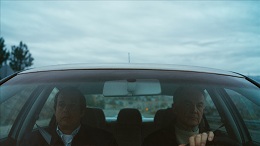 This is Martin Bonner – Scene-Stealers contributor Warren Cantrell caught up with this impressive drama when it premiered at Sundance 2013, and called it a "thoughtful, well-acted, interesting character study." Its a quiet drama about two men starting their lives over, and maybe a possible end-of-the-year awards contender. More.
War Witch – Canada's nominee for Best Foreign Language film at the Oscars earlier this year is a harrowing tale of a 14-year-old girl who gets kidnapped from her African village by rebels to become a child soldier. More.
Greetings From Tim Buckley – The almost-relationship between musician Jeff Buckley (who had a meteoric rise to fame and died tragically) and his father Tim Buckley (who also died young) is dramatized in flashbacks with Penn Badgley playing Jeff in 1991 at a tribute concert for his Dad (Ben Rosenfield). Early reviews say it gets the tone and music just right.  Extra bonus: Frank Bello from Anthrax plays Richard Hell! More.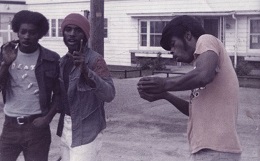 A Band Called Death –  The 2013 SXSW Audience Award-winning documentary A Band Called Death is about the almost-all-but-forgotten proto-punk band Death. Formed in Detroit in 1971 by three African-American brothers, the hard-rocking Death was the antithesis of the Motown sound. This crowd-pleasing doc traces their history as a band and an unlikely rediscovery in 2009 that has assured them their rightful spot in rock history. It's already picked up for distribution by Drafthouse Films and will see a wider release (and has good awards buzz) later this year. More.
Corporate FM–  Local filmmaker Kevin McKinney's award-winning new documentary mourns the death of community-oriented commercial radio at the hands of corporations. "I think it is the sociology major in me that looks at corporate radio's decline and asks 'why?' When commercial radio was locally owned, there was a connection with the community as well as with the advertisers," McKinney told me. "Locally owned radio functioned as a communal megaphone that used to help us unite our cities and cultures." His film uses the corporate buyout of Lawrence's former modern rock station KLZR in 1998 as an example of what is wrong with the radio industry today. Even a Rolling Stone article declaring the much-loved Lazer one of the 10 "Stations That Didn't Suck" in 1998 couldn't save it, which was purchased by The Zimmer Radio Group, who ran it until 2005. More.
We Are Superman – This KC-made doc, directed by Kevin Bryce, is "the story of the American urban core in a time when racism has gone underground, prejudice is glossed over, and progress is built on the backs of the poor. The film is an emotional testament to a select few who are working tirelessly in the heart of America in Kansas City at the corner of 31 Street and Troost Avenue; working to transform a dividing line into a gathering place." A Q&A with the filmmakers will follow the screening.  More.
Whew! That's not even everything. What did I miss? What are you looking forward to?