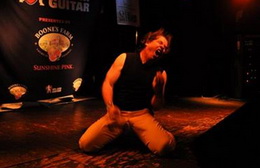 So I may have broken something in my foot and I definitely split my pants doing a sweet knee slide during "Ace of Spades," but it's all worth it because Tuesday night I won the title of Kansas City regional champ in the US Air Guitar Championships. I'll be rocking out with 25 other regional winners in Washington, D.C. at the 9:30 Club on Aug. 7, 2009. We will all be vying for the top spot and a trip to Finland to compete in the 2009 World Air Guitar Championships.
I'm going to make this short since it's already been covered elsewhere, but I have to give a huge thank you to all of my friends for coming out and supporting me. (A special thanks to air roadies Peter "Stiff" Dickens and Longbottom Leif.) I knew the night would be fun, but had no idea how infectious that energy would be. Also, a huge shout-out to all the other contestants (many of them from KC's fertile local band scene and two other second-round finalists from my own band!)
Also, mad props to everybody in the US Air Guitar organization. It was truly exciting to meet and play air guitar with Bjorn Turoque (one of the stars of "Air Guitar Nation," the movie that got me into this), Hot Lixx Hulahan (current World Air Guitar Champion), and Nashville regional champ Stryker, even if I was drunk out of my mind and it was to "Freebird." Why not, right?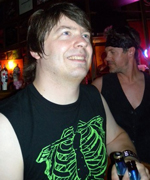 I've heard that DC will be crazy (check out the regionals last week!), and as soon as my foot heals, I'll be back on my feet working on a new and improved song. I am so looking forward to sharing the stage with a bunch of other rock n' roll maniacs who've probably been doing this since they were 14 just like me. To get up and do it onstage and have people scream for you is just insane. For me, it encompasses everything I feel about being a fan of rock n' roll into one spasmodic 60-second moment of bliss.
Oh, and, P.S. If you anyone who can help me with a better stage look, let me know. I wore a sleeveless Nigel Tufnel green skeleton shirt to the KC event and another guy was already wearing the same shirt. Ugh. (And it even went with my sweet yellow pants–remember the scene where Nigel comes back to ask the Tap if they'd like to tour Japan because "Sex Farm" is a hit over there now?) Anyway, the pants are history and I need some fashion help anyway.
Here are links to coverage of the night:
Pitch article: "Mean Melin wins the U.S. Air Guitar Championships' Kansas City Regional"
Pitch slideshow: The U.S. Air Guitar Championships' 2009 Kansas City Regional
Town Without Pity: No guitar, No problem, if you have the nerve to let it rip on air ax
(for photo credits, slide cursor over photo.)