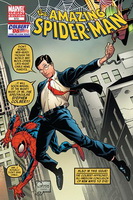 Have you seen the stickers and yard signs that read: "Colbert '08 (and so can you)"?
Heard enough of Obama/McCain?
A fictional presidential campaign for Stephen Colbert has been brewing in the backdrop of many prominent Marvel comic books for the last 10 months. Over a dozen of the comic industry giant's titles have featured "easter eggs"–subtle visual hints–at Colbert the Marvel character's candidacy since Marvel Comics editor-in-chief Joe Quesada appeared on "The Colbert Report."
Here's a video of Joe informing Stephen that he's running for president in the Marvel Universe.
An Oct. 15 "Amazing Spider-Man," the Wall Street Journal reports, was the first to go farther than graphic mentions in the background and actually feature Colbert as a character. The issue saw a 10 percent increase in sales.
I love that Stephen Colbert the person has gone from being a talking-head correspondent on "The Daily Show" to becoming an egocentric right-wing character whose fictional traits give him the ability to make insane wrongheaded statements and do insane publicity stunts. It's the ultimate satirical tool because it fits in perfectly with the kind of bloated idiots he's making fun of, while at the same time, it's also a great promotional tool. The crazier it is, the funnier.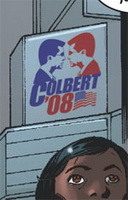 It turns out that the Marvel publisher is a big fan of Colbert's and Colbert is a big comic nerd. There is no money being exchanged, but the deal is mutually beneficial.
Having not been an avid comic reader for a long time, I'm wondering how has this "campaign" been sitting with Marvel fans? Does it cheapen the titles or is it a mildly amusing thing, kept rightly in the background of your favorite books?
Colbert himself even worked hand in hand with the writers to craft the storyline of his fictional campaign for president in the comic books, which also include "X-Factor," "She-Hulk," and "Punisher War Journal" Marvel has also posted election reports on Comedy Central's Indecision 2008 blog. Each of these entries features the Colbert campaign cameos and links to all the issues containing said comic panels.
Soon the winner of the Marvel Comics presidential race will be decided (in the comic world, Nov. 4 is also election day) and we will see whether Obama, McCain, or Colbert emerges victorious.