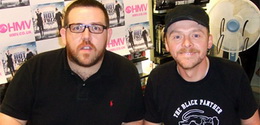 I'm on my lunchbreak now, and this is what I found out today…
First Showing says that the newest Nick Frost/Simon Pegg movie will NOT be directed by Edgar Wright ("Shaun of the Dead," "Hot Fuzz"), but Greg Mottola ("Superbad").
Ridley Scott ("Blade Runner," "Gladiator") is directing a movie based on … wait for it … the board game Monopoly. Sounds like a great idea. Right now everyone's going to want to see a movie about gambling all your money on expensive real estate. Genius.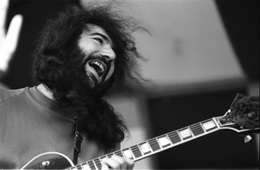 According to THR, a Jerry Garcia biopic is in the works. Adapted from a Robert Greenfield book entitled "Dark Star," the movie aims to chronicle the Grateful Dead leader's early years befor he formed the Dead.
On Dark Horizons: "Watchmen" director Zack Snyder says about the running time of his epic superhero movie coming out in March: "I'm hoping 2 hours 42 minutes, with credits." That theatrical version  is just one of three versions of the film planned for the eventual DVD & Blu-ray release. There's also a three hour director's cut of the film with "the scenes all fleshed out", and the 'Black Freighter' version which will combine that Director's Cut with the 'Black Freighter' short film that will clock in at three-and-a-half hours.
Marvel's "Captain America" has a director and a release date (May 6, 2011), but no script. The studio is accepting pitches? Weird.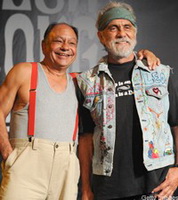 According to star Jeffrey Tambor, creator Mitch Hurwitz says the long-rumored "Arrested Development" movie (based on the insanely funny TV show) is back on.
The Weinstein Co. is producing and distributing a concert doc based on Cheech and Chong's current "Light Up America" reunion tour. The key term here is "current." Hmm.
Don't read here if you don't want to know what happens at the end of Baz Luhrmann's upcoming "Australia," now that the director has filmed a new ending for the film.
Leonardo DiCaprio's production company has been snapping up classic anime properties for the purpose of live-action adaptations.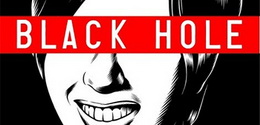 Neil Gaiman ("Beowulf") and Roger Avary ("Pulp Fiction") have turned in their draft of the Charles Burns graphic novel "Black Hole" for director David Fincher ("Fight Club," "Zodiac," the upcoming "The Curious Case of Benjamin Button") and left the project to let someone else do the 10 or so rewrites Fincher will require. This (along with "Watchmen") is one of my favorite comics ever. It's a spooky tale of teenage confusion made worse by a physical manifestation of all those insecure feelings. It's set in the 1970s and reminded me of a time when you couldn't just look things up on the Internet; a time when if something awful happened to you, you felt alone, like you were the only one who had ever had to deal with it. It was impossible to know if there was anybody out there who felt the same way.
I think Fincher could do an incredible job and I've heard he's an incessant perfectionist, so I'll just sit back and be patient.