I just heard KISS' new song "Modern Day Delilah." It's the first single from 2009's "Sonic Boom," KISS' first new album in 11 years.
Listen to the mp3 here or download it if you like … but I have to say …
It is tough being a KISS fan these days.
I appreciate their tenacity. They refuse to go away. Love it. But "they" isn't KISS anymore. History repeated itself after their big reunion tour in 1996 when band leaders Gene Simmons and Paul Stanley gradually became alienated again from their 70s bandmates, Peter Criss and Ace Frehley.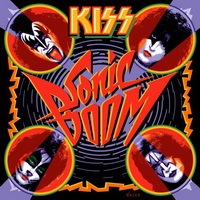 By the time the band recorded 1998's "Psycho Circus," it was back to things as normal, with studio musicians replacing allof Peter's drumming and much of Ace's guitar playing. Granted, Peter wasn't really up to snuff,so I gave 'em a pass.
Some of the tunes had the old school KISS flavor (some just outright sucked) and my band at the time, Ultimate Fakebook, even covered the title track to show our stubborn support for the old school rocking that KISS was still putting out there.
Now Ace and Peter are gone again, replaced by Tommy Thayer and Eric Singer (who are currently wearing the Space Ace and Cat-man make-up instead of going "unmasked" like KISS was in the 80s and early 90s). Sure, they sound tight. Yes, it sounds professional. Yes, it's "bluesy" and "rootsy."
But it ain't KISS. It sounds like some approximation of what Paul and Gene think will get them played on rock radio now.
It's as stagey and fake as "Gene Simmons Family Jewels," a "reality" show with completely scripted scenarios and contrived plot twists. (Yet I still tune in from time to time to see how my old 70s hero/demon is doing. And I think his family is cool. I'm unhealthily obsessed. After all, KISS is responsible for my entire rock "career.")
It's safe. It's boring. Most of all, it's no fun.
Yet I will probably be there for the next tour waiting for that curtain to drop so I can see Gene and Paul don the costumes and see the glorious explosions that come just after the opening riff of "Deuce."
Sad, but true.
By the way, this post has nothing to do with movies, even though this site is all about them, so here ya go:
"Detroit Rock City" is an underrated and overlooked gem of a film that approximates all the energy and excitement of what it was like to be a rock n' roll fan when you were a kid. Rent it even if you don't like KISS. It's that good.
Gene Simmons is in the new Mike Judge ("Office Space," "Idiocracy") movie "Extract," which stars Jason Bateman, Mila Kunis, Ben Affleck, and Kristen Wiig.
OK.