Ever since I saw the critically acclaimed documentary Air Guitar Nation in 2009, my life has changed for the better.
After one viewing of this inspiring, silly, rock n' roll masterpiece, I decided what you may decide after the MOVIES THAT ROCK party thrown by Scene-Stealers and the Kansas City Alamo Drafthouse on March 30. (Tix are going fast!)
I decided to perform and compete in the competitive sport of air guitar.
Since then, my picture has been featured on the front page of Time.com, Yahoo!, and The Pitch (twice!). I've been written about on ESPN, received 32,000 views on YouTube, performed in over 10 U.S. cities, competed in four US Air Guitar National Championships, been insulted by Jason Jones from The Daily Show, been hailed as an innovator by some douche from Playboy, led an air guitar flash mob at First Friday, gotten my own trading card, performed on TV morning shows, given air guitar lessons, been the after-drinks entertainment for a corporate conference, earned a spot in the US Air Guitar Hall of Fame, and raged against the Westboro Baptist Church by shoving my air guitar in their face in the most homoerotic way possible.
Yes, Air Guitar Nation changed my life. And it could change yours too. For a one-night-only event, Saturday March 30 at 9:30 pm, the Alamo Drafthouse will show the documentary that The Hollywood Reporter called "as funny as This is Spinal Tap and David Ansen from Newsweek gave an "11." After the movie, all hell breaks loose.
As you probably know, the Drafthouse serves alcohol. Following the screening, the theater will be transformed into our own private bar, where we get to choose the tunes we want to hear and we get to jump up in front of the screen and air guitar our asses off. There will be blood, yes, but there will also be sweat, tears, smoke, lights, and very possibly confetti and pyro! Spontaneous air bands will be formed. Lifelong friendships will be forged. Old videos you haven't seen in years will be projected on the movie screen. It's like karaoke on steroids. Scratch that: It's like an Elmo crystal-meth sex party. But better.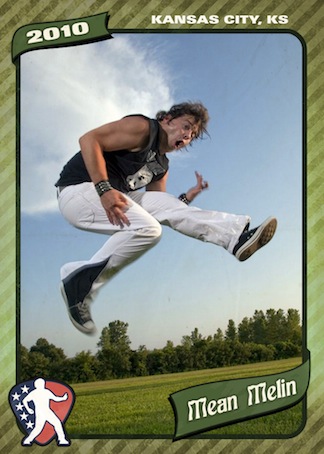 Every time I enter the amazing world of US Air Guitar, I am in an immediate state of child-like arrested development. Air guitar forces you to embrace the Will Ferrell inside of of us. What I've found is that there is a little of that inside everybody. Air guitar is the ridiculous way that I express my love for rock n' roll. Air guitar is about embracing freedom. What could be more American than that?
The great thing about air guitar is that you don't have to be "good" at it, because what even quantifies "good" air guitar? What is fundamental to my continuing air guitar addiction is the strange, exciting community of people that I've become friends with over the last four years. There's a great contingent of Kansas City folks who have all become close through air guitar, and even more across the country:
My friend Justin (Nordic Thunder) is currently the World Air Guitar Champion and is currently featured in a Dr Pepper commercial. My pal Matt (Romeo Dance Cheetah) was featured on America's Got Talent. Magic Cyclops (real name withheld) confused millions of American Idol fans. The three US Air Guitar men known as Airpocalypse made it really far on America's Got Talent the year before Romeo.
Air Guitar Nation is a fun-as-hell doc that chronicles America's rise to power as a force on the World Air Guitar circuit. It will leave you in stitches, ready to jump up and express yourself through the power of airness. Thanks to the Alamo Drafthouse, you'll have that opportunity as soon as the movie is over, with 150 of your (new) closest friends.
See you there!
– US Air Guitar Hall of Famer Mean Melin