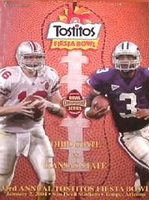 Manhattan, KS in the house!
There was a brief "whoop" from the crowd last night at the advance screening of Oliver Stone's George W. Bush biopic "W." when the Bill Snyder-coached 2003 Kansas State football team made a brief appearance in the movie.
Having gone to school there, played probably more than a hundred rock shows there, and since I appear as a regular movie commentator on Friday mornings on 101.5 FM, I whooped quietly to myself.
The cameo of sorts took place in a scene where Bushie (played perfectly by Josh Brolin) is depressed, watching football by himself, when the final score to the 2004 Fiesta Bowl comes on the screen.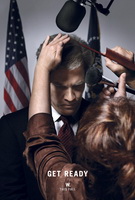 The camera cuts to the ABC graphic of the final score: Kansas State Wildcats 28, Ohio State Buckeyes 35; a disappointing end to a great season that saw the Wildcats beat #1-ranked OU for the Big 12 Championship 35-7. (The Fiesta Bowl was the game where quarterback Ell Roberson was accused of sexual assault right beforehand and it was unclear whether or not he would play. He did.)
Since no filmmaker ever just randomly inserts something on TV into a movie without a certain amount of symbolism or foreshadowing, I was trying to figure out why Stone would show a screenshot from this particular game. He even cuts to it, it's not just on in the background! Obviously, he wanted to place the scene in a specific time (January 2004), but there has to be more to it than that.
One idea that leaped to mind suddenly as I was watching was that it may serve as foreshadowing for the infamous moment that K-State student Jeremy Parker scammed his way up to a microphone at a Bush appearance at the school's Landon Lecture. He told the President he would love "Brokeback Mountain" and, as a rancher, he should check it out.
[youtube Bq9uQahzaUI nolink]
Well, it wasn't foreshadowing for that scene, because that scene never appeared in the movie. So, why did Stone use this moment to put on the TV? Was he drawing a parallel between Bush's popularity after the Iraq War went awry and K-State, who went into the game as favorites and came out losers? I'll probably have to see the movie again (and probably will soon; it was quite good) to place the moment in the context of the story to know for sure. Anybody that goes to see it this weekend, though, keep on the lookout for it. Think about where the story is at that moment and what significance it has. I'd be curious to hear your thoughts on it.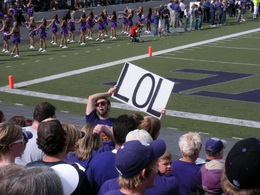 Since you never get to see "the man behind the curtain" on the website, here's a peek. Above is Scene-Stealers director/editor extraordinaire Dustin Schirer in action at a recent KSU football game! Scary, I know.