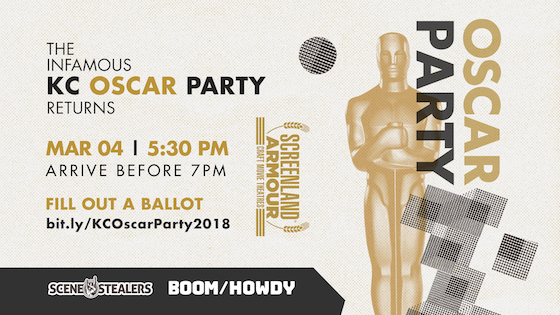 The 90th Academy Awards are March 4, 2018 and your pals at Scene-Stealers, Boom Howdy, and Screenland Armour are hosting the coolest movie party in Kansas City for the sixth year in a row. And, as always, it's free!
This is your chance to see Hollywood's best and worst dressed, watch the Academy Awards broadcast on the big screen with a bunch of other film nerds, play the best Oscar-themed drinking games, do live movie trivia for prizes, and try to best the rest of KC by picking the most winners correctly on your ballot! This congregation of movie-obsessed mayhem happens only once a year. It's a big party atmosphere, and there's truly nothing like it.
The winner gets a huge prize and all runners up get their pick of goods from our massive table of movie memorabilia!
The Kansas City Oscar Party 2018 will be at the Screenland Armour, complete with a food and cash bar.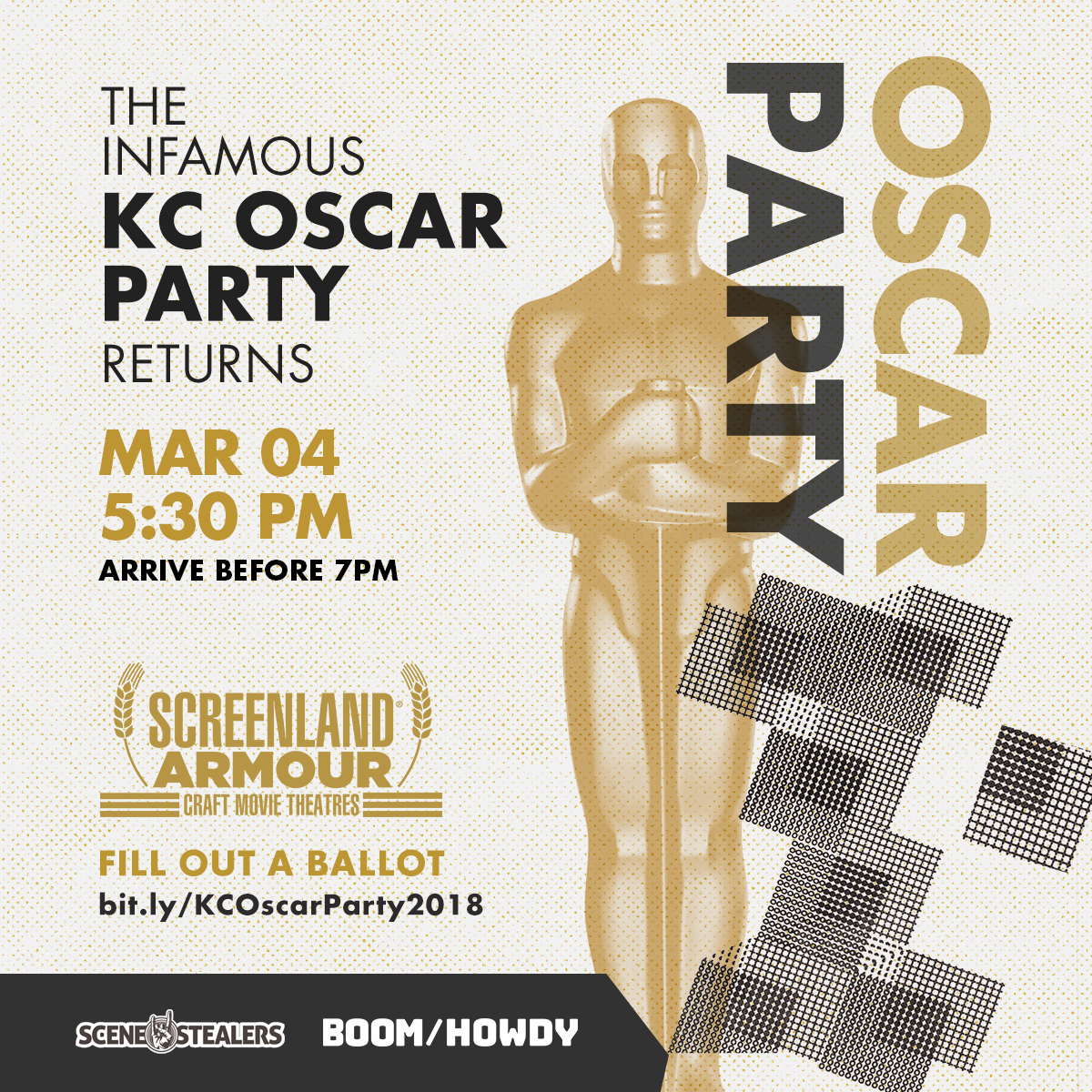 2018 KC Oscar Party
When: Sunday March 4, 5:30pm (Facebook event page) <— invite your friends!
Where: Screenland Armour, 408 Armour Rd, KC MO
Cost: FREE!
This isn't just a night of heightened emotions, fashion, and drinking games. This is a competition, folks!
To enter: FILL OUT THIS ONLINE BALLOT (also embedded below) before you come (or at the party before 7pm).
To follow along with the winners as the night progresses, print off this PDF ballot. See how you're stacking up next to your friends, because at the end of the night, someone is going home with a badass grand prize and everyone else is going home with cool movie schwag!
Get to the party early to grab a seat — and make sure your ballot is turned in ONLINE before 7pm when the show starts!
FAQ
How do I play? FILL OUT THIS ONLINE BALLOT and turn it in before 7pm. Hard copies of the ballot will NOT be accepted.
How do I remember what I picked? Print off this PDF ballot and mark down your picks as you make them. Follow along at the party to see how you are doing.
Can I fill out more than one ballot? Yes, but only two. Two ballots can increase your chances of winning. Also, some people will fill out one the way they actually want the awards to go and another to try to win the game. It's a good strategy.
Can I show up late to the party? As long as your ballot is submitted in online before 7pm, you are good. But you must be present to win something. All winners must be present at the end of the night to take home prizes.