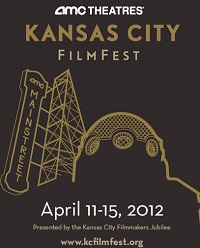 Day four came and went without any interference from tornado-palooza 2012. Trey Hock caught the Sundance shorts and I caught Chel White's film Bucksville. Take it away, Trey:
The Sundance Film Festival Showcase did an incredible job of balancing shorts that offer laugh-out-loud humor with those that serve up emotionally driven drama. Each of the films was well crafted and worth your time to find them online or on iTunes.
Here's the list of films from the showcase with links to the films or their trailers.
The Robots of Brixton
This 6 minute short offers a science fiction reassessment of the infamous Brixton Riots in 1981. The human/robot juxtaposition is interesting though often heavy handed. The animation is expansive and ambitious, but is often sloppy especially in the bigger scenes.
Fishing Without Nets
A young father in Somalia is forced into choosing the life of a fisherman or that of an armed pirate. This engaging short is a thoughtful character study that explores the moral ambiguity that arises from desperate socio-economic situations.
The Return
This short from Kosovo shows us the happiness and tragedy of a husbands return after being held for four years as a prisoner of war during the ethnic conflict of the Bosnian War. Director Blerta Zeqiri does an incredible job of showing us the complexities of this emotionally charged reunion.
The Arm
We needed a break from dour and we get it with "The Arm," a funny story about the dangers of texting and the realities of a relationship built in the virtual world. It's brevity is a strength, and punchy editing facilitates some very funny moments.
Don't Hug Me I'm Scared
A short film about the wonders and horrors of thinking creatively. If you love puppets mixed with bizarre and worrisome humor, then you'll love this short by the This Is It collective. I for one laughed until I was sore.
First Birthday
A young gay Korean man must separate his personal relationship from his family because of the pressures of tradition. Andrew Ahn does an impressive job of never laying blame or making specific arguments. In so doing, he creates a deeply moving story in just under 12 minutes.
Song of the Spindle
Maybe whales really do have it all figured out. Drew Christie thinks so in his animated short. Perhaps the whale's love of song could help humans solve our problems. It is fun and necessarily short.
Fungus
An ex-girlfriend gets even after her ex cheats on her and gives her a resilient STD. Charlotta Miller builds some great comedic tension with an overt set-up that makes us yearn for what we know is about to happen. Very awkward. Very Funny.
Meaning of Robots
Matt Lenski gives his short film with all of the warmth and appeal of American Movie, by focusing fully on his bizarre, yet oddly sympathetic main character, Mike Sullivan, who has been trying to make his robot sex epic for years. Definitely a funny/sad short that satisfies, while making you want more.
Bear
Nash Edgerton returns to the romantic struggles of his previous film "Spider" with his new short "Bear." Again Jack doesn't know how to show restraint when it comes to teasing his girlfriend, but this time he may truly have gone too far. If you loved the shocking humor of "Spider" (link below), then you'll be pleased with "Bear."
Bear – Trailer

Spider – Short Film
While Trey was soaking up some quality short films, I watched Bucksville. A fictional story about hunting lodge members that moonlight as vigilantes. Described like that, it sounds like a potential comedy, but, sadly, Bucksville is serious. Way too serious.
"Bucksville" movie trailer 2011 from Bucksville on Vimeo.
Bucksville directed by Chel White
White's film follows a young man named Presley as he struggles to come to terms with his father, estranged sister and absent mother. This is all set to the background of an almost cult-like hunting lodge that kills known criminals for money. Naturally, Presley becomes disillusioned and what is left is a film where the lead character has to face down his own family, as he struggles to understand the source of his own morality.
Bucksville waffles toward its conclusion, but scores points for its subject matter and a strong performance from the film's lead Thomas Stroppel. It also gets some bonus cred for its Tom Berenger cameo. On a technical level, the film is solid, though budget constraints reared their head at times. In all, it's a  sound indie film that helped round out this year's selection.
Tonight, we find out the festival's winners and will have a full report back on those tomorrow, as well as recaps of the films Trey and Eric saw during the final day.