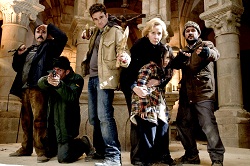 Game of Werewolves (Lobos de Arga) screened at the at the 2012 Seattle International Film Festival and I was lucky enough not only to review the film, but to snag a quick video interview with director Juan Martinez Moreno!
Check it out, as we discuss his inspiration in creature design, the advantages of location shooting, why comedic actors can do anything, and possibility of a sequel to this unique horror comedy. Hopefully, it will get a wider release and more people will be able to see it.
Juan Martinez Moreno Interview – Game of Werewolves director
Here's my review of Game of Werewolves.