When Kansas City singer/songwriter Phillip Bradley was chosen to appear in a documentary about buskers who perform on the streets and subway platforms of New York City, he didn't know what to expect. He headed to Manhattan, slept on a friend's couch and took his music to the people of New York while a film crew shot it all.
That movie, "Busking the System," is making its way across the country now on the film festival circuit, with a three-day stop in downtown Lawrence, not coincidentally during the Lawrence Busker Festival.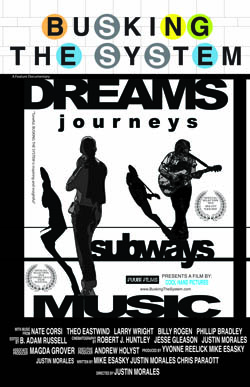 The Lawrence Arts Center is showing the movie August 19, while the Granada Theater hosts screenings on the 20 and 21. Sunday's screening is followed by a concert from the Kansas City band Not a Planet, fronted by Nate Corsi, who also appears in the film. All three screenings will feature an after-movie Q&A with director Justin Michael Morales and another star of the movie, singer/songwriter Heidi Kole.
CinemaKC, a not-for-profit organization connecting film-devoted groups in Missouri and Kansas, will present the Kansas City premiere of "Busking the System" at 7:30 p.m. Friday, Aug. 19; 2 and 7:30 p.m. Saturday, Aug. 20; and 2 and 7:30 p.m. Sunday, Aug. 21, at the Screenland Crown Center, 2450 Grand Blvd. Friday night's screening of "Busking the System" will include a Q&A with one of the filmmakers and busker Bradley. Saturday night's screening will include a Q&A with director Morales, and buskers Bradley and Corsi. Sunday night's screening will include a Q&A with Morales and Bradley.
While Bradley found the transition from playing shows in the Midwest to busking in the subways of New York to be quite difficult, Kole seems to have been born to busk.
"If I have days when I make a handful or a ton of people happy, and someone comes up to me and says, 'You just changed my day completely,' I walk away probably more content than if someone drops a hundred dollar bill in my case," Kole says. "Although the hundred dollar bill never hurts."
Then again, Kole is not your average musician. To start with, Morales and the "Busking the System" crew found her on Facebook — not the first place you would think of to find a street musician. Kole also has a YouTube page, a Twitter account, and even a QR code that is attached to her amplifier so that people who have smart phones can scan it as they walk by and be taken straight to her website. There they can buy a T-shirt or her newly published book, "The Subway Diaries."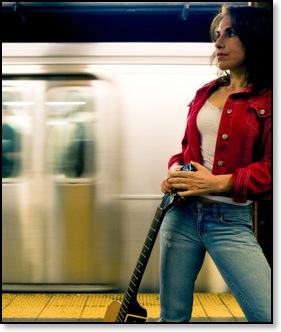 A classically trained musician and stage performer since 12, Kole's love affair with busking "underground" came one day when she took her guitar on the subway on her way to a trainer. Having injured herself on a set doing some TV stunt work (she does that too?), Kole was out of commission and her regular physical therapy sessions meant she couldn't commit to a normal job with 9-to-5 hours.
"It was the scariest thing I'd ever done," she says of her first train-platform performance. "Scarier than stunts, scarier than auditions."
Feeding off the energy of the people in the subway that day however, she experienced "bliss." The multi-hyphenate came away from her trial by fire with a feeling of insanity and — perhaps more importantly — community. While singing against the roar of the trains, something left her that day. Later, she figured out what it was — her ego. "When your ego leaves, it's a pretty great place. You are left with complete contentment."
Living in the Bronx and taking the subway every day, "Busking the System" director Morales had a similar experience, and it inspired him to make the documentary.
"One particular day I saw a blind violinist make his way onto the subway. He found his way to a pole to lean against than began to play intensely. It was an amazing display of talent and when the train stopped at the next station he made his way off the train asking for no change," says Morales. "I then thought to myself, 'There must be more to these performers than making a buck — so much talent so deep under the streets.'"
What Morales found was an entire subculture of musicians who had their own community and codes of conduct, but also had to be well-versed in the Constitution and local laws. Buskers have more freedom in one sense because they play where they want to play 24 hours a day, on their terms, but they are also fighting the elements, the local crazies and the New York Police Department.
For Kole, that's all part of the process. Busking has become a calling. "When I get sent to court, or when I get ticketed, or when I get hauled in," Kole says, "it's important for people to know the joys underground — when children dance to us or when old ladies start throwing away their canes and start moving around on the platform."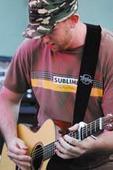 Bradley had a less romantic experience among New York buskers, especially performing near ones with a serious "wow" factor that could impress the tourists — like breakdancers or the guy who plays drums with his hands. For someone like Bradley who is performing his own original music, it is a lot harder to get people to stop and throw some money your way.
"In general, I don't really agree with the whole busking thing as a legitimate venue for performance. After being in NYC for a bit I started to realize how strange it was that people would even expect to get paid for playing music on the streets and subways," says Bradley.
"There are a lot of super-talented musicians and other performers out there, but the people passing by on the street aren't going to pay attention unless they really love music or feel bad for you — and at that point it's almost like begging."
As a cultural trend, however, busking is on the rise. Morales says there are more and more busking festivals cropping up these days than ever. The Lawrence Busker Festival is happening the same weekend the film is here, and Kole is traveling to busker festivals as far away as the United Kingdom and Italy, at least partially funded by a web-based IndieGoGo.com fundraising campaign.
"It's like artist bootcamp," Kole says about busking. "If it is your true calling, it doesn't matter if the A Train's going by at breakneck speed. You'll stay there 'cause it's what you do."