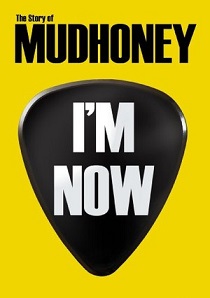 I'm Now: The Story of Mudhoney, now available on DVD and streaming rental, is a completely refreshing band biography.
The documentary, directed by Ryan Short and Adam Pease, completely the opposite of most documentaries which cover an act at this level of renown. It seems that for any band to get a well-shot film about their exploits, they either have to be internationally famous, or obscure and long-gone, but fabulously influential.
Mudhoney, of course, falls somewhere in the middle of the "well-respected but marginally known" spectrum of bands. So, it's not without some amazement to discover that I'm Now looks and sounds fantastic. The interview segments are all shot in a crisp black and white, lending a bit of contrast to the fuzzy color videotape footage of so many of the band's live shows.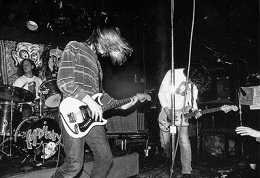 It also classes up the picture somewhat – you see the band members with long hair and shredded jeans early on, then you see them cleaned up and (somewhat) respectable in the interview segments. It's also worth noting that while the interviews look wonderful, they sound equally good – a refreshing change of pace from the tinny talking-head segments of so many recent rock documentaries.
Best of all, I'm Now stays focused on Mudhoney. While Nirvana, Pearl Jam, et al are mentioned, it's only when they're pertinent to the narrative. At no point do the directors attempt to make this a more commercial film by making it about Mudhoney's more well-known contemporaries.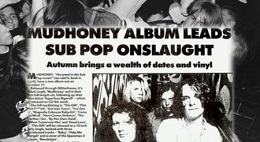 You have a sense of what sort of market and zone the band was operating in when they broke nationally, but never does the film become Grunge: The Movie. You see interviews with former bandmates, as well as acts with whom Mudhoney played, but never does this become a distraction – except for Keith Morris. Why is he in every fucking documentary about any underground band that formed since 1980?
There's also a sense of self-awareness which permeates the movie. The various members of Mudhoney have no elitism, nor do they have a downtrodden, "we could've been contenders" spirit about them. These are guys who play in a rock 'n' roll band, get to tour the world every so often, and enjoy a modicum of success.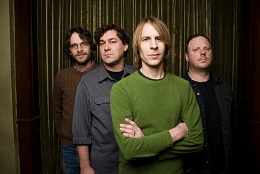 Hell, frontman Mark Arm talks about his drug use extraordinarily candidly, yet with a certain amount of tongue-in-cheek swagger. He knows how rock docs treat the singer's drug use, with sad music and regret. He simply talks about his heroin use as something he's quite embarrassed to have done, and a rather stupid cliched period of his life.
The inevitable result of watching I'm Now is that I wanted to pull "Touch Me I'm Sick" off the shelf and blast it as loud as I possibly could. The live footage just kills it, and the band makes you want to pull some beers from the fridge and party while the movie plays. It's a rare documentary that manages to capture the spirit of a band so well, and I'm Now is that very film.