The new book If You Like The Sopranos…, written by Leonard Pierce and published by Limelight Editions, is a well-written introduction to the genre of crime movies and TV shows masquerading as a "book of lists."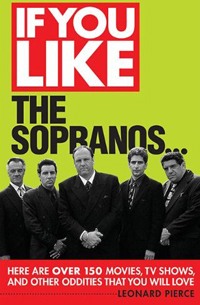 I totally understand why this new If You Like series is packaged this way. It's easier to sell a book that explores the psychology and history of the crime genre when its through the lens of one of the best TV shows ever made.
And honestly, Pierce is persuasive and well-reasoned as he runs through the high-water marks of crime movies and TV series, constantly comparing their content to David Chase's groundbreaking HBO show. As he traces the lineage of the genre from early Hollywood gangster films to Martin Scorsese's GoodFellas (which shared more than themes with The Sopranos — half of the cast of GoodFellas showed up in The Sopranos at one time or another), Pierce looks for parallels and influences on Chase's complicated and epic serial drama.
Another nice touch that makes the book easier to read (and seem a little less like a master's thesis) is the addition of sidebar Top 5 lists under each chapter. True to its name, If You Like The Sopranos… will introduce you to lots of classic genre pictures and some underappreciated films as well.
Under the chapter subtitled "The Changing Face of Crime" where Pierce spotlights Bonnie and Clyde and the rise of the anti-hero, his Top 5 list of recommended movies from turbulent times includes Masahiro Shinoda's nihilistic, stylish film noir Pale Flower and John Boorman's violent revenge drama Point Blank. Nicely done.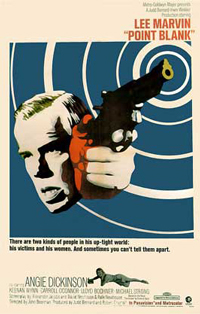 Besides exploring what makes the criminal mind so fascinating and what makes mature crime drama tick, Pierce goes beyond the runaway success of The Sopranos and looks at the effect it has had on serialized TV, both in and out of the crime genre.
Even the most up-with-it dedicated watcher of TV will find something new to explore here, from the 2009 British trilogy of excellent TV movies Red Riding to the History Channel's Gangland series.
There's even some videogame and novel recommendations like 2KGames' Mafia II and James Ellroy's Underworld USA Trilogy of in-depth historical fiction novels (American Tabloid, The Cold Six-Thousand, and Blood's A Rover).
If You Like The Sopranos... is a tight, well-researched 172 pages that not only makes for a great read, but if you're like me and you're always on the lookout for quality recommendations, you may also find yourself reaching for the highlighter or your Netflix queue.
Check out this cool video trailer for the book: